"SousVide Supreme™ Vacuum Sealer" is not available for sale online.
This item may be discontinued or not carried in your nearest store. Please call your local store to check in-store availability before heading there. For informational purposes, the product details and customer reviews are provided.
Related Searches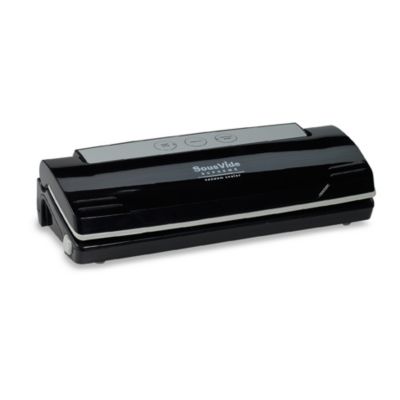 SousVide Supreme™ Vacuum Sealer
Vacuum sealer seals food for cooking in your SousVide Supreme™ or SousVide Supreme™ Demi Water Oven
Beyond its use in Sous Vide cooking, it helps you keep stored food fresh longer in your freezer, fridge or pantry while giving you the versatility of preserving your food in in these compact pouches for long trips
So easy to use, it offers a mechanical locking system for simple, hands-free operation
Its compact, easy-to-clean design with cord storage makes for added convenience
ETL listed
Measures approximately 14"W x 6 1/2"L.
Model # VSD100
Vacuum pouches sold separately
SKU # 17748424
SousVide Supreme Vacuum Sealer and Food-Grade Vacuum Pouches
SousVide Supreme Vacuum Sealer
Vacuum sealing food with the compact new SousVide Supreme Vacuum Sealer is quick and easy.
Simply season a portion of food the way you like. Here we're flavoring salmon with a little salt and pepper, a sprig of fresh dill and slices of lemon. But feel free to use your favorite seasonings. Now slip the food into a suitably-sized food grade vacuum seal cooking pouch.
Here's a helpful tip. Fold back the top of the cooking pouch to keep it clean. Food particles and oils that accumulate along the sealing edge can prevent a tight seal.
Now your pouch is ready to seal. Open the vacuum sealer by pressing the lock release buttons on each side, lift the lid and inside you'll see the ribbed sealing surface, and at its center, the suction portal.
Position the top edge of the cooking pouch within the sealing surface below the suction portal, close the lid and lock it by pressing either side. You should hear both locks click.
Now press the vacuum seal button to start the motor. The red light will illuminate and the pouch will begin to deflate. When an adequate amount of air has been evacuated, the red Seal Only light should illuminate as well, indicating that the pouch is being sealed.
Once the pouch is sealed, the unit will automatically shut off. Unlock and open the lid and remove your perfectly-sealed food. Now your food is ready to be placed into the
SousVide Supreme Demi
for cooking, or you can also refrigerate or freeze these sealed pouches to use later.
The SousVide Supreme Vacuum sealer gives you a compact and easy solution to seal your favorite foods, guaranteeing that all the nutrition and flavors are locked in for when you're ready to cook.