Personalization is required to add item to cart or registry.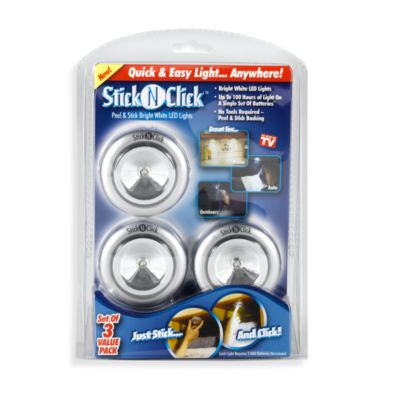 Alternate image 1 for Stick N' Click Battery Operated Lights (Set of 3)
Alternate image 2 for Stick N' Click Battery Operated Lights (Set of 3)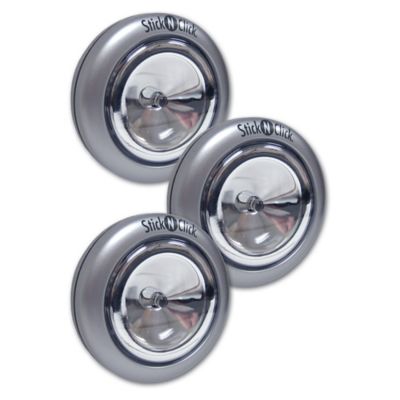 Watch the video for Stick N' Click Battery Operated Lights (Set of 3)
▶
Similar Items
The item you viewed above is out of stock. We also suggest:
As Seen On TV
Simply peel and stick, there's no need for wiring, tools or an electrician
Each light provides over 100 hours of light on a single battery
Set uses three AAA batteries which are not included
Thirty-day warranty
SKU # 14296999
View More
Stick N Click
It's dark under there. It's dark in here, too. Now, there's Stick N Click lights. The battery operated LED lights that you peel, then stick, and click for instant light anywhere. No tools, no dangerous wires, and no complicated installation. Just peel, stick, and click for quick, easy light anywhere.
Use stick and click to brighten all your dark spaces. Light up the inside of a drawer, or instantly illuminate a cabinet or pantry. They're perfect for brightening up a dim counter. Just stick and click for bright, white light. And best of all, each light runs up to 100 hours on one set of batteries, so Stick N Click is there when you need it.
By the bedside, nothing is easier than Stick N Click. And if you want light in places you normally couldn't, you can depend on the power and versatility of Stick N Click. Light up dark closets. Use Stick N Click in the basement or the attic for instant light. And if the power goes out, Stick N Click twists off for use as an emergency flashlight. By the front door, in a shed or a garage, or even inside your car. They're great for camping because they stay bright for hours. And, Stick N Click works great as an umbrella light. They're even small enough to fit in a purse so you can take them anywhere. And they can even light up and accent your favorite collectibles.
An electrician can cost over $100.00 to install just one light.
Related Searches
Same Day Delivery Exclusions
Same Day Delivery is not available for items that ship directly from the vendor or furniture items delivered by truck.