Personalization is required to add item to cart or registry.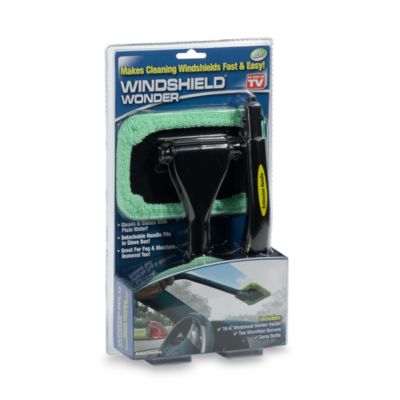 Alternate image 1 for The Windshield Wonder™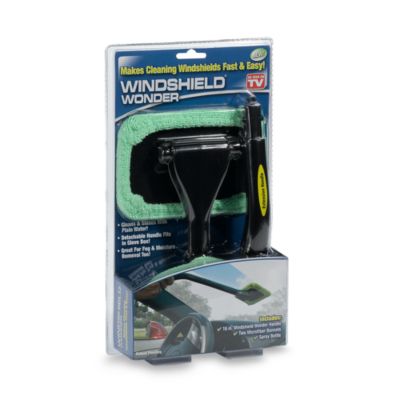 Watch the video for The Windshield Wonder™
▶
Similar Items
The item you viewed above is out of stock. We also suggest:
As Seen On TV
Simply slip one of the microfiber bonnets on the head, spray with water, and start washing
It's great for fog and moisture removal, and when you're done, the detachable handle fits in a glove box
Includes two microfiber bonnets, a 12" microfiber towel, a spray bottle, and a storage pouch
SKU # 16677213
View More
Windshield Wonder

If you think a clean windshield is too much of a stretch. If you think a clean windshield is just out of reach, you need the Windshield Wonder. The Windshield Wonder makes cleaning windshield, side and rear windows, even hard to reach interior glass, faster and easier than ever before. The Windshield Wonder combines a micro fiber cleaning bind with an ergonomic handle and a unique pivoting head to make windshield cleaning fast and easy. So easy you don't even need glass cleaner. That's right, the Windshield Wonder cleans and shines glass with plain tap water. Amazing!

"Oh no question, when you detail a car, the inside windshield is always the toughest part. But now that we are using the Windshield Wonder, it's the easiest part."

The Windshield Wonder is perfect for wiping away moisture and condensation too! For better visibility and safer driving. But that's not all, take the Windshield Wonder inside to clean mirrors, windows and more. Dust dining tables and buffets without bending and reaching. Keep shower doors shining like new! And that hard to clean top of the fridge, the Windshield Wonder makes it a cinch to reach every inch.

And when you're through just wash the bonnet and they're good as new!

''I was spending a lot of money on disposable dusting sheets. But with the Windshield Wonder, I can wash and reuse the bonnets. So, I'm saving time and I'm saving money.''Take yours home today!''
Related Searches
Same Day Delivery Exclusions
Same Day Delivery is not available for items that ship directly from the vendor or furniture items delivered by truck.