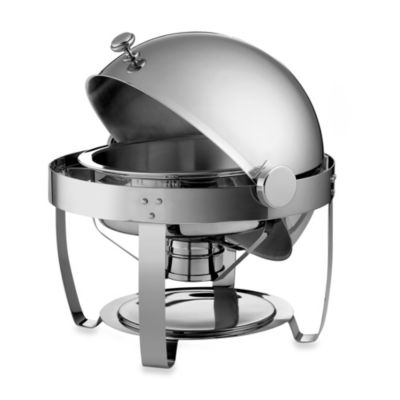 Alternate image 1 for Tramontina® 6-Quart Round Stainless Steel Chafing Dish with Roll-Top Lid
Alternate image 2 for Tramontina® 6-Quart Round Stainless Steel Chafing Dish with Roll-Top Lid
Alternate image 3 for Tramontina® 6-Quart Round Stainless Steel Chafing Dish with Roll-Top Lid
Alternate image 4 for Tramontina® 6-Quart Round Stainless Steel Chafing Dish with Roll-Top Lid
Food pan has a 6-quart capacity and is oven safe to 390° F.
The chafing dish can also be used to keep seafood and fruit chilled by simply adding crushed ice to the water pan.
Water pan has a 10-quart capacity.
Measures 18 1/8" L x 17 4/5" W x 15 7/8" H and includes food pan, water pan, chafing frame, fuel burner with flame extinguisher and domed lid.
Fuel burner uses prepackaged 7-ounce fuel cans, not included.
Dishwasher safe.
Lifetime warranty.
SKU # 17320025
Related Searches
Similar Products