Personalization is required to add item to cart or registry.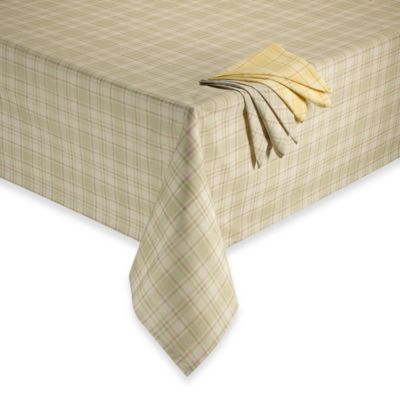 Alternate image 1 for Tuscan Plaid Laminated Fabric Tablecloth
Watch the video for Tuscan Plaid Laminated Fabric Tablecloth
▶
Similar Items
The item you viewed above is out of stock. We also suggest:
100% cotton
Wipe clean
Imported
Napkins sold separately
View More
Laminated Tablecloths
Hi. I'm Kara from Bed Bath & Beyond, and I'm here today to talk to you about the Laminated Fabric Tablecloth collection. These tablecloths combine the look of fabric with the ease of vinyl. Made of laminated fabric, they resist stains, spills, and wipe clean. They are available in a variety of sizes and beautiful patterns that match with any d?©cor. Coordinating unlaminated napkins are also available.
This unique fabric makes the tablecloths the ideal choice for carefree yet elegant entertaining, whether indoors or outdoors. They're easy to care for and machine-washable.
This is the perfect tablecloth for a busy family. Let me show you how if you spill a little bit of wine or even grape juice, it'll be just fine.
Just wipe it up with a damp cloth or a dry towel, whatever you have available. Your table will look as great after dinner as it did when your family sat down.
These laminated fabric tablecloths and matching napkins are available online and at a Bed Bath & Beyond store near you.
Related Searches
Same Day Delivery Exclusions
Same Day Delivery is not available for items that ship directly from the vendor or furniture items delivered by truck.