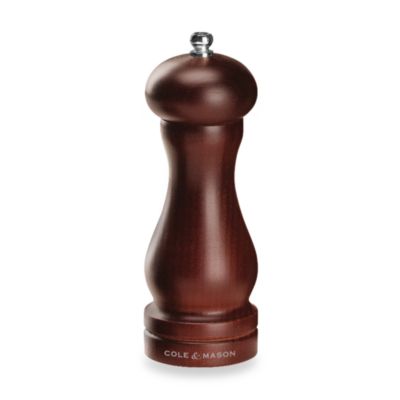 Alternate image 1 for Cole & Mason Forest Capstans 6 1/2-Inch Salt Mill
Alternate image 2 for Cole & Mason Forest Capstans 6 1/2-Inch Salt Mill
Alternate image 3 for Cole & Mason Forest Capstans 6 1/2-Inch Salt Mill
Alternate image 4 for Cole & Mason Forest Capstans 6 1/2-Inch Salt Mill
Alternate image 5 for Cole & Mason Forest Capstans 6 1/2-Inch Salt Mill
These attractive wood pepper mills are made from 100% prime grade natural beech that is sourced from sustainable forests & hand sanded for a smooth finish.
This mill features a rich chestnut color.
Precision mechanism promotes precision grinding and is made with diamond sharp ceramic that ensures hard-wearing properties, maintaining the ultimate in performance.
The spring loaded mechanism allows easy adjustment of grind settings from fine to coarse ensuring more grinds per turn, therefore consistently releasing optimum flavor.
Limited lifetime warranty.
Imported.
SKU # 18737809
Related Searches
Similar Products