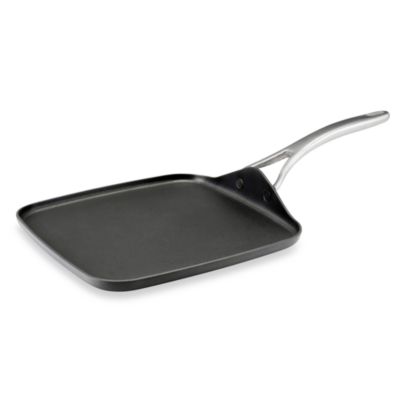 Alternate image 1 for Anolon® Nouvelle Copper 11" Square Griddle
Alternate image 2 for Anolon® Nouvelle Copper 11" Square Griddle
Alternate image 3 for Anolon® Nouvelle Copper 11" Square Griddle
Alternate image 4 for Anolon® Nouvelle Copper 11" Square Griddle
Alternate image 5 for Anolon® Nouvelle Copper 11" Square Griddle
Alternate image 6 for Anolon® Nouvelle Copper 11" Square Griddle
Alternate image 7 for Anolon® Nouvelle Copper 11" Square Griddle
Copper double full-cap base features a full layer of copper sandwiched by 2 layers of aluminum and protected by an impact-bonded magnetic stainless steel cap creating unmatched heat distribution and induction suitability.
Generously appointed cast stainless steel handle is attached to the pan body using flush-rivet technology which makes clean up quick and easy.
Autograph® 2 non-stick interior delivers enduring food release and easy cleaning.
Griddlecakes, French toast, grilled cheese; the options are endless!
All can be done in this family size 11'' square griddle.
Low sides gives you maximum access to the cooking surface of the pan making turning foods a snap.
Oven safe up to 500®F.
Limited lifetime warranty.
Imported.
SKU # 18751305
Related Searches
Similar Products