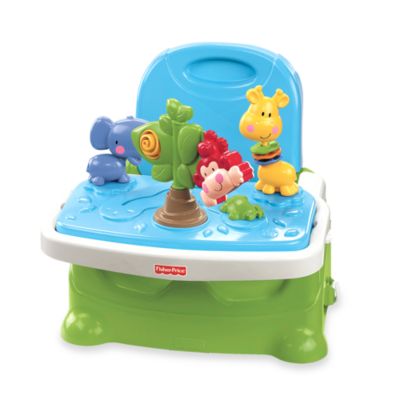 Alternate image 1 for Fisher-Price® Discover' n' Grow™ Busy Baby Booster
Alternate image 2 for Fisher-Price® Discover' n' Grow™ Busy Baby Booster
Alternate image 3 for Fisher-Price® Discover' n' Grow™ Busy Baby Booster
Alternate image 4 for Fisher-Price® Discover' n' Grow™ Busy Baby Booster
Alternate image 5 for Fisher-Price® Discover' n' Grow™ Busy Baby Booster
A traveling turtle, a giraffe with spinner beads, an elephant with a bobbling head and a rotating tree with multiple play options will keep baby interested and help with visual stimulation and tactile fun.
The booster folds easily for portability and the toy insert is dishwasher safe.
Easy-wipe surfaces.
3-point restraint and a strap for securing it to almost any chair.
Non-skid feet.
Maximum weight is 50 lbs.
1-year warranty.
Imported.
SKU # 40283579
Related Searches
Similar Products