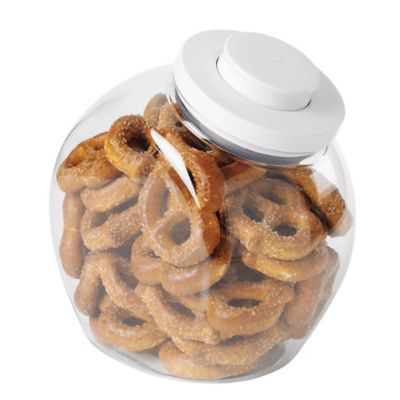 Alternate image 1 for OXO Good Grips® POP Large Cookie Jar
Alternate image 2 for OXO Good Grips® POP Large Cookie Jar
Alternate image 3 for OXO Good Grips® POP Large Cookie Jar
Alternate image 4 for OXO Good Grips® POP Large Cookie Jar
Alternate image 5 for OXO Good Grips® POP Large Cookie Jar
Watch the video for OXO Good Grips® POP Large Cookie Jar
This jar makes all kinds of cookies and snacks easily accessible while its unique pop-up button mechanism creates an airtight seal to help keep goodies fresh and ready to eat.
Button serves as a handle to easily remove the lid with one hand and the large circular opening makes it easy to access your snacks.
Jar's shape also allows for attractive countertop display for a variety of dried foods.
Flat back sits flush against a wall.
5-quart capacity.
BPA-free.
Lifetime warranty.
Imported.
SKU # 40320717
Related Searches
Similar Products