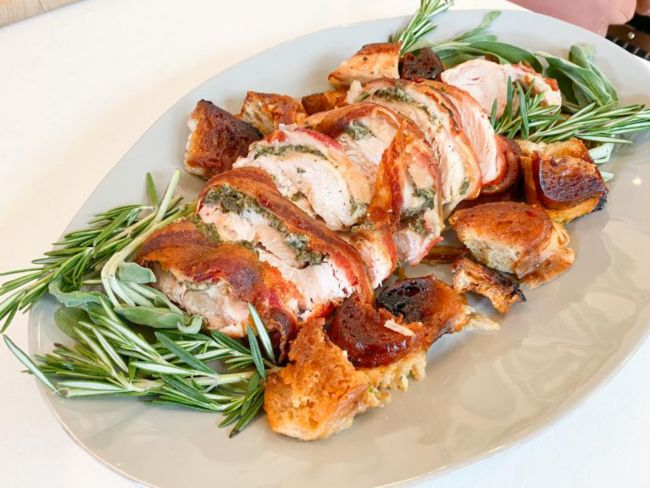 home, happier team
Katie Lee Biegel's maple sage bacon-wrapped turkey breast with stuffing croutons
ingredients
Nonstick cooking spray, for parchment paper
½ pound bacon (about 8 strips)
6 tablespoons unsalted butter, at room temperature
Six to eight 2-inch slices baguette
2 tablespoons minced fresh sage
2 tablespoons maple syrup
2 teaspoons kosher salt
1 teaspoon garlic powder
1 teaspoon onion powder
½ teaspoon freshly ground black pepper
One 7-8-pound skin-on boneless split turkey breast
instructions
1
Preheat the oven to 350° F.
2
Line a sheet pan with parchment paper. Spray the parchment paper with cooking spray. Shingle the bacon strips side-by-side on the parchment paper, allowing the edges to overlap slightly. Refrigerate until ready to use.
3
Butter each side of the bread slices, using 2 tablespoons butter in total. Place the bread in a 9-by-13-inch baking dish. Set aside.
4
Mix the remaining 4 tablespoons butter with the sage, maple syrup, salt, garlic powder, onion powder and pepper in a bowl. Use your fingers, and a knife, if necessary, to make a pocket between the meat and the skin of the turkey. Rub the butter under the skin in an even layer. Place the sheet pan with the bacon on a work surface, then lay the turkey skin-side down on the bacon. Wrap the bacon around the turkey by lifting the parchment and pressing the bacon against it to secure. Place the turkey skin-side up on top of the bread and lift away the parchment.
5
Roast until the internal temperature reaches 165° F, 1 1/2 to 2 hours. Let rest for 30 minutes before slicing. Quarter the stuffing croutons before serving. Serve warm.