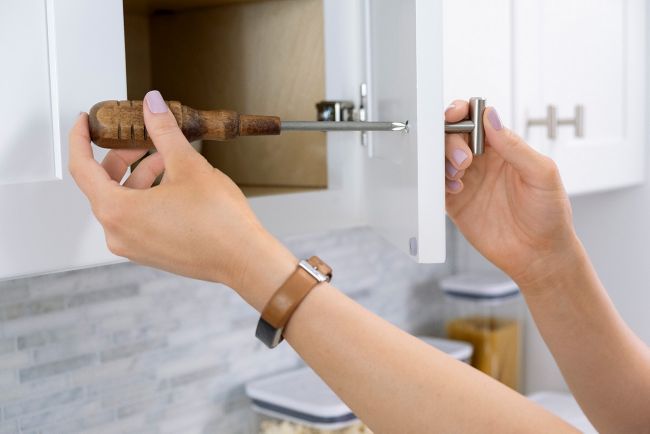 Moving into a new home is exciting and daunting all at the same time. You're starting a new chapter, and have a blank canvas to decorate. But this blank canvas can quickly become overwhelming because it takes time and effort to make a new space reflect you and your personality.
Expert home organizer and designer Sharrah Stevens from Live Your Style, shares how you can make a new place feel like your own!
If you follow me on my Live Your Style YouTube channel, then you probably already know what I am going to say: PAINT! People tend to steer away from painting, especially if they're renting, but it's a must in any home. If you don't like the color of your current walls, change them. If you're renting, just ask your landlord what the original paint color was and you can paint it back before you leave.
I suggest picking out a paint color once you've decided on the majority of your furniture and which art pieces you'll be hanging. It is way easier to match a paint color to decor than the other way around!
I always suggest changing the hardware (drawer pulls, knobs, shower heads, and the like) throughout your home to complement your style. This is something you can do if you rent or own, just make sure if you're renting that you keep the old hardware somewhere safe so you can replace it before you move out. Don't forget about your kitchen and bathroom faucets; by changing a knob here and a handle there, it gives continuity to your entire house.
Light fixtures are another thing people shy away from, but shouldn't! You can find light fixtures to fit any design style and instantly make a statement. And don't underestimate the power of using the right lightbulb.
There's something about hanging curtains that makes a space feel softer and less like a big white box. Always, always, always hang your curtains a few inches below the ceiling as opposed to right over the windowsill. This will bring your eye up and make the whole room feel bigger. Same goes for your shower curtain: Bathrooms tend to be on the smaller side, and if you hang your shower curtain closer to the ceiling, I can't tell you how much of a difference it makes!
In addition to curtains, art helps make a room feel less empty. Art is a great way to add color and your own personality into a space and can also be budget friendly if you get creative with framing magazine cutouts or even using heirloom quilts as tapestries. Pick art prints that speak to you and that you will love looking at for years to come! If you live in a smaller space, use a mirror as art. Mirrors make a space feel bigger and brighter, and are always great to use in small spaces.
Invest in Organizational Aids
Nothing will make you feel more satisfied with your own home than having it organized the way you like. Spend a weekend measuring all the spaces in your kitchen, bathroom, office, etc. and keep the dimensions and notes on your phone so you can easily reference them while shopping. Invest in quality containers, bins, and baskets to help you sort and store everything. Make your bathroom and kitchen Pinterest-worthy—always put things back where they belong.
I hope these six tips help you transform your space into a place you love. You'll be making memories in your new home and it will go from just a house to your very own home in no time!
Sharrah is wife, dog mom, and lover of creating beautiful spaces in her own home and for others! She is the founder of the website, Live Your Style with a goal to help inspire men and women discover their style and equip them to live it out with confidence. Sharing tips for decorating, organizing and just plain ol' lifeing, Sharrah wants to help everyone realize that no matter the size of their space or budget they can design a home they are happy to wake up in each and every day.