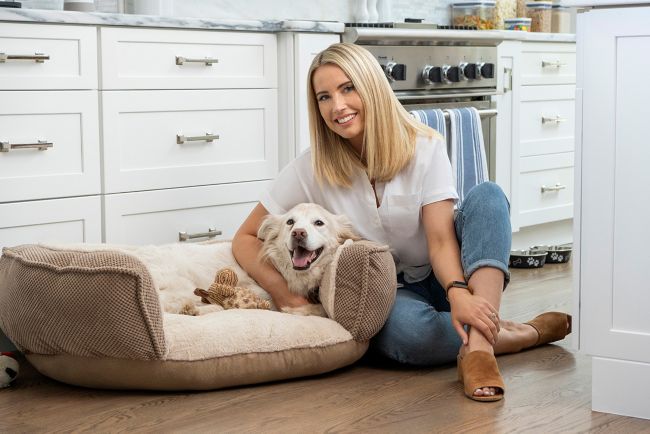 Moving may be stressful for you, but it can be downright scary for your cat, dog, or pet bird. Our helpful checklist can ensure they feel safe and secure before, during, and after the move.
One Week Before Moving Day
Introduce Your Pet to the New Space Before You Move In
Our furry friends can get anxious when going to new places, so it's best to familiarize them with their new surroundings before move-in day. If possible, take your pet to visit your new home in the days leading up to your move to help them feel more comfortable in the space. If it's not possible, be sure to pack familiar toys and bedding to make your new home smell more familiar. If you don't have a pet carrier, buy one now and get your pet used to it before moving day.
Prepare Their Pet Carrier
A pet carrier or crate keeps your pet safe inside moving vehicles and unlocks easily to let them out for bathroom breaks on longer trips. Don't forget collapsible food and water bowls so you can ensure your pet stays healthy, comfortable, and hydrated during the trip. Put individual food portions in baggies and extra water in a bottle for easy refills. A crate is also great to shelter your pet when you first arrive in your new home. Set it in a quiet space so they can have their own secluded area while you unpack and set up the essentials.
Don't Forget a Cover
Is your pet ready for nap time or a break from the chaos? No problem! Simply put a lightweight blanket over the top to make it dark and cozy. This is especially important for birds, for whom cage covers can be very calming. Just make sure your bird is already familiar with the cover so you don't add to their distress.
Place Pet Essentials in Familiar Spots 
As you start unpacking, make sure to set out your pet's things in familiar spots. For example, if their food and water bowls were previously by the trash can, set them up in the same place. Keep things as consistent as possible during the transition. Take time to show them where their food, water, bed, litter box, and toys are. If your pet sleeps in your bed, set that up first so you can all get a good night's sleep after a long day.
Reduce Anxiety, Naturally 
If you have an anxious pet, you may already know about the anxiety-reducing pet apparel brand Thundershirt. This innovative product provides a gentle hug-like pressure; working wonders to reduce anxiety and fear without the use of drugs.
Create a Routine for Your Pet 
A consistent routine is one of the best ways to get your pet adjusted to their new space. By giving them a routine similar to their previous one, it makes their new home feel more calm and comfortable. You'll both love having an established routine in your new place, and it will also lead to less destructive behavior because your pet will know what to expect.
If you have a dog that is older or having a harder time getting used to their new "outside" routine, keep a clean training pad by the door. That way they have somewhere to relieve themselves as they get used to their new home and you can begin to direct them outside.
One Month After Your Move
Treat Your Pet
Once you and your pet have finally adjusted to a new routine in your new home, it's time to reward them. For cats and dogs, replace their old, dander-filled pet beds or towers, or upgrade to a memory foam bed in a stylish neutral tone. It's super comfy and will fit right in with most decor. New bowls that match your kitchen are always a good look, too! Finally, treat your feathered or furry friends to a new toy they can bat, peck, or chew to their heart's content.