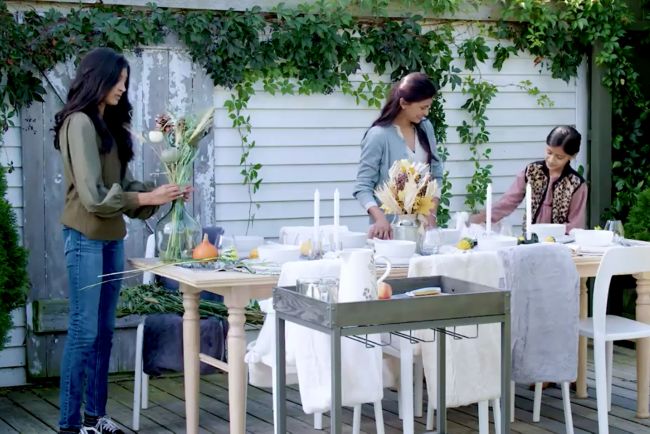 take it outside! bring the indoors outdoors this season.
This is a year for crafty workarounds and new traditions. Whether you're working with a balcony or a barn, you might be surprised to find that your outdoor space is rich with possibilities. Check out these ingeniously easy ideas for making your outdoor space into a cozy cold-weather wonderland.
create distinct entertaining zones
In this beautiful outdoor setting, Decorist for Bed Bath and Beyond designer Sarah Ramirez imagined a cozy, multipurpose environment with distinct zones for dining and lounging. A geometric-pattern outdoor rug is the foundation of the intimate fire pit sitting area, which is equipped with all the essentials for a relaxing fall evening: comfy throw pillows, knitted throws, elegant hurricane lanterns, and baskets filled with firewood. Beyond it, a dining table and chairs with a transitional slatted design look just as handsome outdoors as they do when seen from inside.
Get professional design help on your outdoor space! SAVE 40% on Decorist for Bed Bath & Beyond with promo code DESIGNHELP.
A chic rug that you can hose down at the end of the party? Yes. A simple outdoor rug will define your party space while adding extra softness, warmth, and texture.
Skip the porchlights: Your choice of lighting is crucial for setting the right mood. Nostalgic flameless candles brighten corners and lift spirits. Hang rustic lanterns from branches and use them in tablescapes. Ring your "room" with the dancing flames of tiki torches. Introduce shimmering surprises by tossing jumbles of fairy lights into shrubs, oversize glass vases, and other dark spots. The options are endless—and so instagrammable.
Is there anything more luxurious than a warm fleece or wool throw on a cold night? A colorful array of throw blankets brings indoor comfort outside, and invites your guests to settle in and stay for a while.
fortify your oven-to-table arsenal
Dutch ovens and other enameled baking dishes that go straight from oven to table are a huge timesaver--both at serving and cleanup time. Plan your menu with festive and gorgeous pieces from AKS, Staub, and LeCreuset in mind. If you need to round out your collection with one or two new pieces, consider it a great investment.
A patio pergola or gazebo makes a great frame for an instant outdoor "room." (You can set up most of the versions we carry in under a half hour.) Many models include canopies that allow for ventilation while shielding guests from the elements. Note that these summer staples aren't built to bear the weight of snow, so proceed with caution if you live in a snow zone.