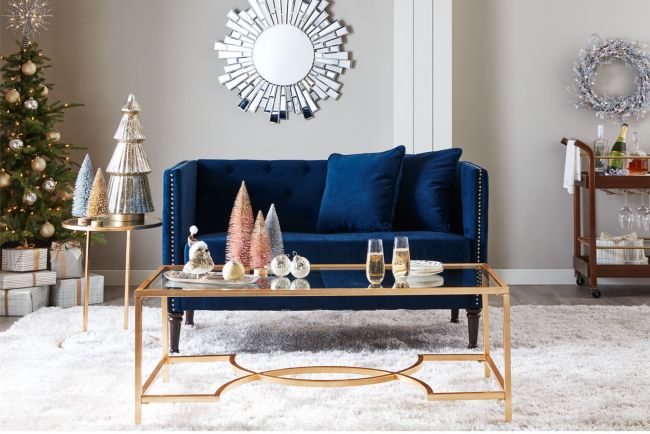 the holidays are not canceled. and when they arrive—which is soon—we'll really need our homes to offer a cozy refuge.
If the four walls you've been staring at lately aren't feeling like inviting spaces to gather and celebrate, here are some almost-instant remedies. Try one or several of these tips to quickly transform a tired room. Then add holiday cheer.
Block out a few hours to give your room a thorough going-over. Start by scanning all the surfaces where unnecessary items tend to congregate. Is there anything you can put away? Next, look at the whole room—floors, walls, furniture, windows. What needs to be cleaned or repaired? Refresh upholstery with laundering or spot-cleaning. Be thorough: use all your vacuum's attachments to clean behind furniture, under cushions, in crevices and crannies. Dust moldings and baseboards and wipe away grime on doors and switch plates.
Look out below! It's amazing how a new carpet can instantly transform a space. Black-and-white is crisp and timeless. And don't fear color—it'll transport your space to a happy place, fast. Also remember that graphics are less overwhelming when underfoot, so go ahead and get a rug that has a lot to say.
A fresh coat of paint—whether it's the same color that's already on your walls or a fun new hue—can completely transform a room in a matter of hours. That includes the trim, friends. Fresh wall paint + dingy trim = still dingy. Even faster and easier: make an accent wall with peel-and-stick temporary wallpaper.
4. get your zoom room ready
Are you ready for virtual holiday gatherings? Art direct a Zoom-optimized room. Curate your shelves with beautiful books, family heirlooms, photos, pretty plants, or trophies, if that's your vibe. Then add warm lighting and a high resting place for your device; this will allow you to angle the camera down flatteringly (instead of shooting up your nostrils). Add seasonal flourishes like wreaths and holiday lights when the time is right.
5. call in the clutter busters
Pretty and practical, these high-functioning helpers will keep things organized, minimize messes, and save you from tripping over stray toys. A storage ottoman is a great place to store linens, toys and board games, or even home office equipment. Throws and linens are even cozier when snuggled into beautiful baskets. Consider a bar cart or two: Besides holding your cocktail fixings, a bar cart can house a rolling home office or board game collection.
Need some instant gratification that won't break the bank? Add some new cushions, pillows, and poufs for that "just-redecorated" feeling. Look for unexpected shapes and forms to toss on couches and in corners. Poufs do triple-duty as footstools, end tables, and perches. (They're especially great for gathering 'round the Christmas tree.)
Are your lampshades on the job long past retirement age? Stains, snags, burns, and sags are all lampshade speak for "I'm done." Lampshades instantly introduce color, texture, patterns, and form into an environment, achieving maximum visual impact for minimal cost.
8. snap up the couch you've been coveting
The right couch is everything right now. It must support digital nomads. Welcome returning college kids. Accommodate new foster dogs. Ask yourself: is your current couch cutting it? If there was ever a time to buy the comfy, gorgeous, no-compromise couch you really, really want, it's now. (If you're not ready to take the leap—or seat—consider a new slipcover: it's a low-effort, low-cost, low-commitment way to make a huge difference.)