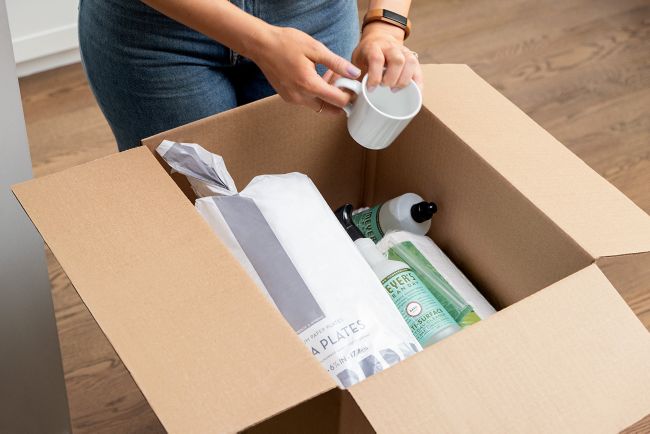 Between transporting fragile dishes and glasses, packing cluttered cabinets and lots of little items (you've got four vegetable peelers and 38 spoons, but we're not judging!), a kitchen can be one of the more difficult rooms to pack, unpack, and organize during a move.
We've got nine steps to make the process of relocating your kitchen much easier.
Pantry Purge
Get rid of any expired pantry items (if they're close to expiration, Trader Joe's and other stores will accept them) and bring anything you don't intend to use within the next three months to a local food pantry. You can contact Move for Hunger, an organization that can pick up your pantry donations and deliver them to a local food pantry on your behalf.
Purge any broken utensils, plates, or appliances, and donate anything that you haven't used in the past nine months to a year.
Only Pack What You (Actually) Use 
From junk drawers to expired pantry items to rarely-if-ever used appliances, kitchens quickly accumulate a lot of stuff that aren't worth the expense of moving. Pack only the items you've used in the last year, and do away with the rest (barring your grandmother's china, of course).
Protect Fragile Dishes with Packing Kits
Pack your best dish sets in plate storage sets to preserve their quality. 
Who doesn't want an Insta-worthy cupboard and pantry? Clear containers not only make kitchen shelving looking g-o-r-g-e-o-u-s but they also make packing and unpacking super easy. Airtight storage containers help make sure you don't have any food spills during your move and also help you consolidate food (like those three open bags of rice you have) into one single container. Also, special fabric storage containers (our favorites have a clear panel to easily see what's inside) are perfect for packing infrequently used serveware so you can simply pack it up and store it safely in your new home.
Plan with Post-Its®
Before you start filling your kitchen cabinets with plates, cups, and appliances, use a marker and sticky notes to plot out where you intend to place kitchen items. This not only saves you the time of unpacking and moving items later, but will help you better visualize where everything will fit. Bonus: Now you can delegate unpacking to other people, who can follow your simple numbered directions.
Organize by Usage
Maximize kitchen efficiency by keeping items where you intend to most frequently use them. For example, keep mugs near the coffee maker, plates and utensils near the dishwasher or sink, and cooking utensils near the stove. Organize your pantry by category (i.e., spices, canned items, dried grains, or snacks) and keep frequently used ones at eye level, placing lesser-used items near the floor or on the top shelf.
Make It Beautiful
Not all storage needs to be hidden. From the coffee maker to dish soap, we love putting functional, everyday items on display. Pour dish soap and hand soap into clear dispensers and place them on a small marble serving tray with a scrubbing brush and plant to make a sinkside statement. Or, create a welcoming coffee station by grouping a sleek coffee maker, extra spoons and mugs together with sugar and coffee storage on a large wooden tray with a motivational sign to perk you up each morning.
Maximize Fridge and Freezer Storage 
Fridge and freezer containers make fridge organizing a snap. Leave small items grouped together, or stack multiples to double (or triple) the amount of eggs, cans, or fresh produce you can store. Plus, organized fridges keep you from buying unnecessary items (no more multiple double, half-used condiments) and help prevent food waste. Shelf liners can be cut to length and help protect the inside of your fridge from drips and spills.
Pantry Must-Haves
Whether your pantry is a simple cupboard or a walk-in closet, these essential storage items will maximize its space. Over-the-door organizers turn the unused space on the backs of doors and cabinets into high-efficiency storage. Spinning or stacking organizers help you group similar items together so you can find what you need and manage your inventory. And even if you don't have the perfect closet or cabinet space, you can create your own pantry with functional shelving or beautiful pantry furniture.
With just a little bit of planning and preparation, you'll be cooking in your lovely, organized new kitchen in no time.