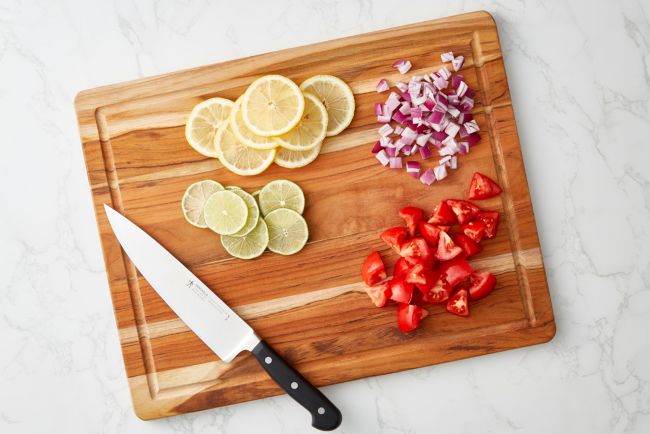 Here are the 10 items you absolutely need to get your kitchen started.
Maybe you're moving into your first place or maybe you're in the first place where you feel compelled to set up a proper kitchen. Congratulations! You're adulting. Here's the bad news. The fact that you're adulting doesn't automatically make your kitchen Martha Stewart's. It also doesn't give you the secret to perfect crispy on the outside but somehow soft on the inside pancakes. The good news is setting up a kitchen where you can cook and eat all of the basics doesn't have to take up all of your time (and most of your paycheck.) Here's our list of 10 essentials to stock your new kitchen.
Good knives are key to good meal prep. And, while every knife has its role, once you're a Level Two home cook we highly recommend expanding your collection to serrated knives, paring knives—the very exciting list goes on. But the one knife you truly need is a chef's knife. It's a daily workhorse great for slicing, dicing, chopping, and everything in between. You'll be able to cut up all of your fruits and vegetables for meal prep, and you can use it to carve a chicken or slice steak easily. It's the ultimate utility piece.
Note: Which chef's knife you choose is ultimately up to you, based on personal preferences for size and construction materials and methods. We recommend shopping for these in person, holding a few in your hand, and deciding which one feels the best before you buy.
Does it count as one item if we recommend you get two? In this case, we're going to let it slide. You'll definitely need a cutting board to do all of the aforementioned slicing, dicing, and chopping. In an ideal world, you'd own a pair: One for all raw meats, and the other for anything that doesn't need to be cooked (even if you do plan to cook it), like vegetables, fruits, and bread. You can get by with just one of these. It just means you'll be doing a looot of really thorough washing.
Saucepans are great for making grains, pasta, sauces, reheating soup, and steaming vegetables. We recommend a small one of these, since we also suggest getting a stockpot (see below). If you're usually cooking for just one or two people, the small size will help the process move more quickly.
Now, the larger pot. To whip up soups, stocks, and stews, you'll need a stockpot. Even if you are just one or two hungry chefs, you can make big batches of your favorite soups and stocks and keep them in the freezer for quick meals. Of course, a stockpot is always ideal for group dinners.
If you're going to have just one pan, we recommend going with something nonstick for versatility. It's great for scrambling eggs, sizzling stir fries, and sauteéing chicken and fish. The nonstick coating is easy to clean.
With your pan or skillet, you'll need some tools. If you go with nonstick, said tools will need to be wood, silicone, or nylon (no metal forks!). If we had to pick just one, we'd say you should get a turner. You can use it for scrambling, stirring, and of course, for flipping anything from pancakes to delicate pieces of fish.
Of course you'll use your casserole dish to make anything that comes in casserole form (mmm, baked ziti), but you can also use it for a variety of oven-based meals Roast a chicken and vegetables for low-maintenance weeknight dinners or meal prep for the week.
Even if most of your meals are eaten straight out of the vessel you cooked them in, standing over the sink, you should get yourself a set of dishes: dinner plates, salad plates, bowls, and mugs. Even if you only plan to use them when you have company, you need a basic inventory. If you live alone, you can probably get away with having two of each item (so you're not washing as often), but we'd recommend at least four of each if you have the space. That way, you can wash even less, and you'll have dishes for guests.
Get yourself a flatware set to go along with the dishes. A 45-piece set typically comes with 16 spoons (eight dinner spoons, eight teaspoons), 16 forks (eight dinner forks, eight salad forks), and a five-piece hostess set, with some serving utensils. This should be more than enough to get started on your way to culinary enjoyment in the comfort of your own home.
Pick up se the one set of drinkware for everything from water to juice to iced tea to cocktails. It will typically come with eight highball glasses (taller) and eight double old-fashioned glasses (shorter). No one will care that you're serving Cabernet in the same glasses you use for smoothies. They'll just be happy you're serving wine!