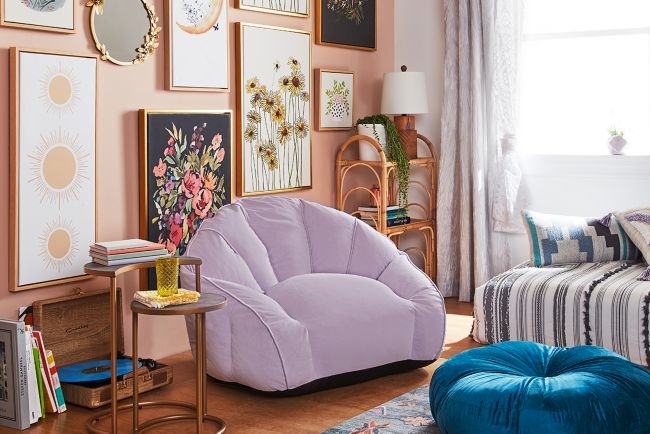 Decorist™ designer Megan Wright shares her style tips
When working with clients, designer Megan Wright always follows this rule: your space should reflect your lifestyle and personality. The things that inspire and excite you should influence your room design. That's why she's a fan of Wild Sage™—because it's all about expressing your unique experiences, passions, and ideas, so your space feels totally you. Here are some ideas for making that happen.
Start by picking a color palette that speaks to you. Play around with colors that complement each other, adding on patterns with different shapes and scale—the key to creating an eclectic look.
Don't be afraid to mix and match patterns (even if you're sharing a room). Stay in a similar color palette with shades that "speak" to each other and then add a pair of throw pillows in a solid color to give your eye a rest and to keep it from feeling too busy.
Introduce textures through your accent pieces such as rattan tables, plush pillows, and quilted blankets. For an unexpected twist, use the rattan bar cart in the bedroom. It's perfect as a bedside table or as a "beauty cart" for a cute take on a vanity.
4. Have fun with your floor
Layer a variety of patterned rugs to give your space that eclectic look. Neutral rugs with hints of color will ground your space, and layering takes the guesswork out of finding a rug in just the right size.
5. Get creative with your accessories
Turn a planter into a pretty waste basket–they're the perfect size and add a natural, textural vibe to the space.
I think the most important step in styling your space is making it your own. Bookshelves are a great way to display objects that you love. Or try adding a few useful and beautiful things to your bedside table, like a pretty dish for jewelry, a low-wattage lamp in a simple shape, a faux plant for some easy greenery, and maybe some crystals for the good vibes.
follow us!
Follow @mywildsage on TikTok and Instagram for more inspiration.