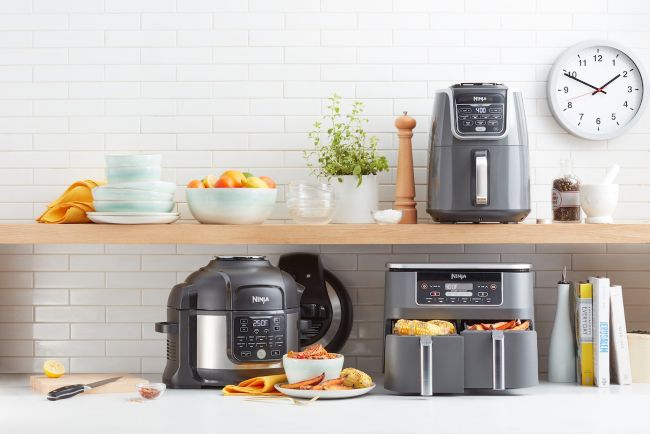 How do you get a deep-fried crispness without the cooking oil? It seems almost impossible, but an air fryer comes as close as you can get. It delivers a crispy, fried-food finish without using oil.
Like a convection oven, air fryers cook food with currents of hot air. Like a deep fryer, an air fryer gives the outside layer of food a satisfying crunch while cooking the inside too. Better yet, an air fryer cooks faster and leaner.
An air fryer is a countertop appliance that offers an alternative way to cook. Its heating elements and fan are in the top of the unit with the cooking chamber below. The powerful fan circulates the heat all around the food for an even finish.
---
pro tip:
Shop around before buying your air fryer because they come in a spectrum of profiles, sizes, functions and capacities
---
how does an air fryer work?
Unlike a deep fryer, an air fryer heats up within a couple of minutes. You don't have to turn it on 10 minutes or more before you are ready to fry your food. This saves time and energy, which always seem to be in short supply around mealtimes.
It really isn't necessary to add any oil to the food you are preparing to air fry. However, you can increase crispiness by adding a couple of teaspoons of cooking oil. Be sure to double-check the recipe or the manual on how to use an air fryer to see the exact amount of oil you should use.
Foods cook faster in an air fryer. Expect your meal to be table-ready within 5 to 25 minutes. Even frozen foods heat up in as little as 10 minutes. Some foods, like fish fillets, come out more evenly crisp if you turn them over once while cooking.
You may be asking yourself, "What is the main advantage of an air fryer vs. a deep fryer?" Food prepared by air frying is not immersed in hot oil, so it does not have that lingering greasy flavor or extra calories you get from deep frying.
---
pro tip:
Air frying produces a flavor that is more like oven-baked food. You can especially notice the flavor difference in battered products like shrimp or poppers.
---
Healthier – Are air fryers healthy? Yes! By using less oil to cook food, they help support a balanced diet.
Faster – An air fryer heats up and cooks quickly.
Easy cleanup – Wondering how to clean an air fryer? It's easy because there are no messy oil spills. Simply wipe it clean..
More efficient – The shorter cooking time uses less fuel/energy.
Versatility – Anything you can bake, you can air fry.
Convenience – Air fryers are right on your countertop, ready to go.
what size air fryer do i need?
---
pro tip:
Many new ranges and ovens have an air-frying setting, and they have enough space to fry a holiday turkey. When you cook it in a large air fryer oven, you'll end up with juicier breast meat, crisper, perfectly browned skin, and a roomful of appreciative guests.
---
Air fryers are popular, so many different models are on the market. One good way to narrow your options is to determine the features you want, and then, find the models that meet your criteria. Some of the more useful air fryer features include:
Preset options – Preset options mean you don't have to look up a recipe every time you want to air fry. Some air fryers have presets for everything from pizza to birthday cake. All you have to do is put in the food, close the door, and press the icon on the control panel.
Rotisserie – Rotisserie cooking is a feature that's great to have for air frying delicious roasts or whole chickens. A skewer holds the meat and snaps into the fryer cavity. As the appliance air fries, it slowly turns the meat so that it cooks and browns evenly.
Dehydrator – If your air fryer has a dehydrator function, preserving fruits, veggies, and even meat is a snap. Slice them up and lay them out, and they'll be dried and ready in record time. It's great for snacks and lunches.
Dishwasher safe – The removable parts of your air fryer, such as the basket or drawer, the rotisserie rack, and any other attachments, should be dishwasher safe to make cleanup even less of an issue. Keeping your air fryer clean helps prolong its life.
Nonstick – A non-stick food basket should be non-negotiable. You certainly don't want your food falling apart after sticking to the basket.
---
pro tip:
Select an air fryer with the functions you'll use often so that it is compatible with your culinary style.
---
what are the different types of air fryers?
Manufacturers have been pretty creative with their air fryer designs. When you compare air fryers, you'll notice different sizes, shapes, and functions.
The countertop air fryer/convection oven is probably the most conventional-looking type of air fryer. It is rectangular and about the same size as a toaster oven.
A countertop air fryer/convection oven has a glass door that swings open, and inside are two or three shelves where you place the food. These versatile ovens not only air fry, but they also convection broil and bake, toast, and keep food warm.
Some basket air fryers open at the top for basket access. Others have a drawer in front. They are typically taller than they are wide. Basket air fryers fit in smaller spaces without sacrificing capacity.
The heat source for halogen ovens is a light bulb that emits infrared energy. Unlike air fryers, which have an electric element and circulating fan, halogen ovens rely on radiation and a fan to cook and crisp the food.
A Halogen oven requires no preheating, and it can cook large quantities of food faster than air fryers. You have to take care, though, because the lid becomes quite hot during cooking.
---
pro tip:
Halogen ovens roast the food rather than air fry it, so if you want the signature crispy finish on your food, go with an air fryer.
---
what can you cook in an air fryer?
Many main dishes, side dishes, snacks, and desserts get a big boost from air frying. Part of the fun of owning an air fryer is experimenting with all sorts of exciting air fryer recipes. You can decide what foods work best, but keep the following tips in mind for superior results.
Lean meats, including chicken, fish, and some cuts of beef, require a nudge to come out crispy. While they don't need to be breaded, be sure to brush them with some cooking oil and add seasonings before placing them in the fryer. You'll get juicy and tender lean meat.
Veggies, including green beans, butternut squash cubes, carrots, and potato cubes, all benefit from a light coating of vegetable oil before frying. They'll come out crispier, just the way you'll like them. Salt sparingly to let the air-fried flavor come through.
Air fryers are also great for seafood such as salmon, cod, and crab cakes. Whether your fish is breaded or a fillet, you can cook it perfectly with the right setting.
Battered frozen foods like prawns, tempura vegetables, and onion rings come out light and crunchy when you air fry them.
Scrumptious desserts, from cake donuts to fruit crumbles, cook quicker in an air fryer. Apple crisp, for example, comes out with nicely caramelized fruit and golden topping.
---
pro tip:
Don't be too quick to add oil to the food you plan to air fry. Try cooking it without oil first to find out how it tastes.
---
air fryer care and cleaning
Due to a lack of messy oil spray, your air fryer is so much easier to keep clean than a deep fryer. Brush off any crumbs. and clean the basket in the dishwasher between uses.
Wipe the exterior of the fryer with a soft cloth to remove smudges. If necessary, clean the interior with a mild soap and sponge, taking care to avoid the heating element and fan.
---
pro tip:
If you don't have enough dedicated counter space, choose an air fryer that is compact enough to store between uses.
---
Browse our online catalog or stop by one of our locations today to take a look at our variety of air fryers. You're sure to find the one that is perfect for your kitchen and your lifestyle. As always, our friendly staff will be happy to help.