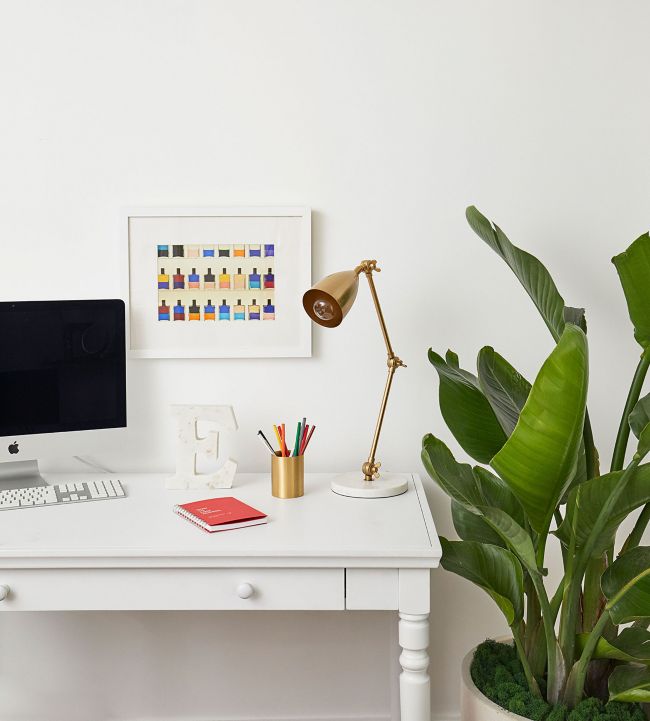 Campus life may have to wait, but you can still design a stylish and functional bedroom that feels like college.
Designing your dorm room is a rite of passage, and one of the most fun ways to kick off the school year. While on-campus life may have to take a beat this year, that doesn't mean you can't design a stylish and functional "dorm room" at home. Since hanging at the quad and reading at the library will probably be out of the question, it's more important than ever to make sure your space is equipped with everything you need to study, sleep, and socialize (virtually) this year.
Here are a few key tips and tricks from Decorist for Bed Bath and Beyond designers for decorating your "dorm" at home this year.
Before you shop, think about the look you want to go for! The options are endless. We've designed a few different styles to inspire you, including Chill Camp Vibes, Low-Key Bohemian, and Modern Glam. Chill Camp Vibes has a masculine, industrial vibe, with layers of blue-grays, reds, and neutrals, and a mix of metals and natural materials. Low-Key Bohemian is airy and earthy with soft textures and a relaxing, eclectic look. Modern Glam is super girly with touches of pink and gold, and also ultra-cozy with lots of plush texture. Need help nailing your personal look? Take our Style Quiz to find your style, or collaborate with a Decorist designer on a complete Room Design.
College courses require long hours of studying and writing, so a comfortable, back-friendly desk chair is key, as well as a desk with lots of storage and tabletop space for your books and paperwork. In addition to a desk chair, we also recommend outfitting your room with a cozy side chair and ottoman—this will next-level your study breaks, reading sessions, and Zoom chats with classmates and friends.
A task lamp that brightens up your workspace is essential to a productive school year! Lamps with adjustable arms are smart choices—and you can take your tech a step forward with a light with a USB port to keep you charged. On your nightstand, your table lamp is where you can have a little more fun with style. From designs with trendy marble bases to ones with bright turquoise shades, table lamps are an easy way to add personality to your space.
In this new shelter-at-home lifestyle, your virtual hangout backdrop (and Instagram Reels stage)—whether that be the wall behind your bed or the mish-mash of pillows behind your head—is the ultimate place to express yourself. Accessorize with artwork, posters, string lights, peel-and-stick decals, wall hangings, photographs, memorabilia, and fun pillows. These accents will make your space stand out from the (virtual) crowd and make it your favorite place to hang. If you're going to be hunkered down at home, why not love where you live?
Find artwork and pics you love and display them with frames, clothespins, push pins, or even washi tape! Hang 'em up in a gallery wall style to create a dynamic look. On your bed and side chair, layer a mix of throw pillows with different types of patterns (stripes, florals, checks, cacti!) in large- and small-scale prints. Choose colors that complement each other—they don't have to be matchy-matchy.
Your private domain should be comfortable for every activity. Just as you might choose an ergonomic chair for your desk, pick a mattress topper that gives you a great night's sleep, and big throw pillows that make sitting up to read as cozy as can be. We're fans of the old standby: the husband (or boyfriend) pillow, which has a supportive back and arms that make reading and relaxing easy. Have room for a bean bag chair? That's a no-brainer! Beyond pillows, think about making your space cozy with soft accents like a sheepskin rug or a furry throw blanket.
Since your bed is the main focal point of your room, bedding is one of the key places to showcase your style. Mix sheets, blankets, throws, pillows, and even curtains from different collections in a few colors and patterns that complement each other to create a designer look that's 100% unique to you. You'll spend a lot of time on your bed, so make sure you have both comfortable bedding for sleeping and pillows for lounging.
The amount of textbooks you'll acquire during a single semester is astounding, and if your professors have anything to do with it, you'll have lots of paperwork to go along with them. Make sure your room is equipped with a bookcase, even a small one, so you can keep everything neat. Stock up on a few storage bins or even a filing cabinet to keep those term papers organized. Make your 'rents proud!
In a real dormitory—if you're smart—you'd have a hot plate and a microwave in your room to keep you fueled up for the semester. If mom and dad are cooking, you may not need all those appliances, but a mini fridge is a smart investment that will keep you hydrated and nourished. Fill it with water bottles, energy drinks, and snacks like yogurt and fresh veggies to snack on when you're studying hard. If you enjoy tea or coffee, score yourself an electric tea kettle and a French press—make a pot of tea or coffee and stay caffeinated during those cram sessions.
What's great about everything we've recommended is that when school resumes on campus, you can bring it with you! Make the most of this semester at home by having fun with your look and designing a room that's as productive as it is stylish. If you feel like you need some help pulling it all together, collaborate with a Decorist for Bed Bath and Beyond designer on an Accessory Refresh or Room Design service and a professional designer will help you create a beautiful space in your style and budget.