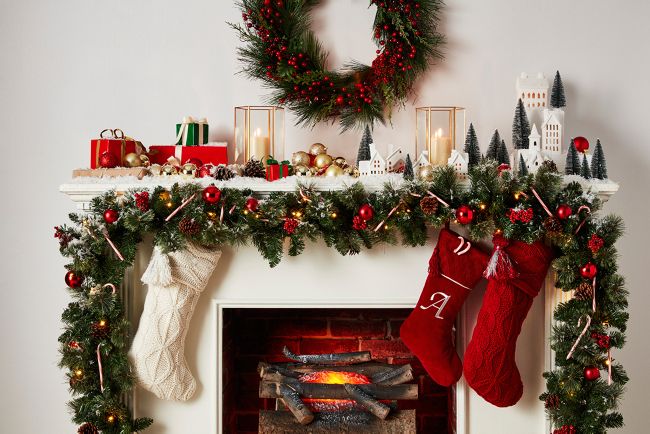 Home is where the hearth is, and this year, we're all about classic holiday decor for your mantel.
Sometimes, it's good to be edgy. Other times, you just want to keep it classic, and there's absolutely nothing wrong with that. Traditional decor, especially around the holidays, is warm, familiar, and inviting. While it may not be surprising, it's always going to be great—like a Beatles song. It's not new, but nobody is ever mad when they're listening to "Penny Lane." It's instinctual joy.
If that sounds like what you're after this year, we're right there with you. Here's how to do a classic mantel right.
Make It Merry and Bright
The emphasis here is on bright. We love Luminara flameless candles because they're pretty, easy to use, festive, and they're safe around pets, kids, and clumsy guests. Get a few in different colors and styles to make it festive, or keep it simple and elegant with an all-ivory look. 
We love using hurricanes when we light candles to keep drafts from blowing out the flames. They also add a sophisticated vibe, and there's no reason not to use them with your flameless candles, too! They're pretty, add dimension, and can help you play around with different heights.
Stay On Theme
We love Christmas decor, and sometimes we wish we could have our homes decorated for the holiday year-round. On the other hand, the fact that you only get to do it during this most wonderful time of the year is part of what makes it special. So, let's make it special! 
We love this pre-lit porcelain village with snow-capped cottages and trees that you can arrange however you'd like. Use all of them on your mantel or disperse them throughout the room and in your windows to tie your whole look together. This Santa, reindeer, and snowman decoration is a cheerful addition above the fireplace as well. And, of course, you can't go wrong with a classic wreath and some garlands.
Think Outside the Tree
Ornaments: not just for trees anymore! They add a bright, shimmery element to any Christmas setup. If you have extras you've accumulated over the years, your mantel is the perfect place to use them. If you don't have extras, might we suggest adding to your collection?
Make It Personal
Adding a personal touch always brings good vibes, and stockings are the perfect place to do it. These monogrammed stockings are glamorous and, as an added bonus, they serve as a great-looking cheat sheet when you need to remember whose is whose. Customized shelf blocks can be stacked or placed side by side to add a bit of sentiment to your space. We also love these photo frames, which can be personalized with up to four lines of any message. Use them to hold photos from past Christmases—the whole family will be able to enjoy them!
Merry Christmas, and happy decorating!