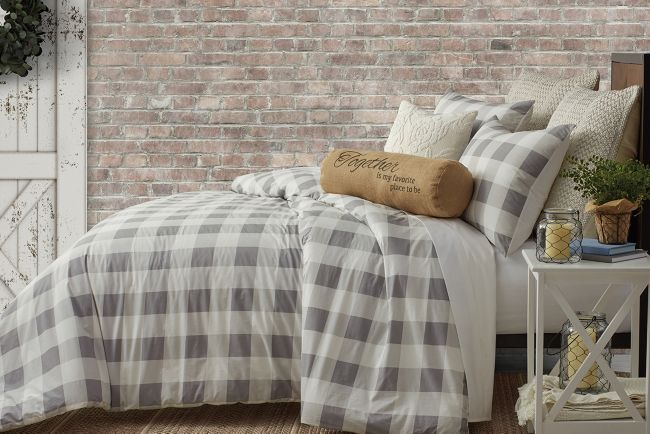 How We Holiday
How to Create the Perfect Guest Room for Holiday Visitors
Create the perfect home away from home for your visitors, and put the ho-ho-ho in holiday hosting.
So you're having a houseguest (or four). Kudos to you for welcoming others into your home for an overnight stay. The mere fact that you're devoting your personal time, energy, and square footage to hospitality rather than, say, scrapbooking or stuff-piling, confirms your deeply good character. With these pointers for making your guest room especially welcoming, comfortable, and functional, you may well secure your spot in hospitality heaven.
A Warm Welcome
The first glimpse of your guest room should inspire a sense of ahhh. For the holidays, buffalo check bedding (in four updated hues) from Bee & Willow™ Home feels cheerful and cozy. In addition to adding an element of softness and warmth, these velvet blackout curtains from Brookstone® allow your guests to control the amount of daylight entering their sanctuary. (This may prevent them from getting up at dawn and banging around in the kitchen in search of coffee when they—and, more to the point, you—are supposed to be sleeping.) Fresh flowers or seasonal evergreens are a thoughtful touch, and the dark smoke glass of this Mikasa vase is unexpected and dramatic.
Covers Covered
Clean, fresh sheets are a must. Wamsutta® 500-Thread-Count PimaCott® Sheets are some of our favorites. Made with Pure PimaCott, they're softer, more durable, and more vibrant than regular cotton. Since every sleeper is a special snowflake, your special guests will appreciate having blanket options: Hot-blooded types love the cooling technology and hug-like heft of the weighted blanket from Therapedic®, while those with cold feet will love the toe-toastability of a heated throw from Brookstone®.
A Panoply of Pillows
A guest with neck pain can be a bit of a pain in the neck, which is why it behooves hosts to make available myriad pillows. A side sleeper from Wamsutta® is gusseted for optimal neck support, and this back and stomach sleeper from Claritin® is designed to help align the spine. Brookstone® BioSense™ cosmetics pillowcases actually prevent makeup and beauty treatments from soiling the fabric—circumventing sticky stain situations with houseguests who retire in a full face of makeup (the horror!). 
If you really want to pamper people, you could add a bed wedge and a knee pillow to your comfort collection. The rewards of an exceptional sleeping experience probably outweigh the risk of your guest room looking like a physical therapy studio. Refresh your pillows with lavender spray between uses. It'll gently perfume the whole guest room, and can aid relaxation and sleep. 
A hotel-quality robe and slippers—even goofy ones—can make your visitors feel well taken care of, and abundant empty hangers will thrill those who like to keep their quarters tidy.
Details, Details
Once you've got your guest digs looking spruce, give them a test run. Is there a place for your guest to put her luggage? Are there lamps, like this handsome style from Bee & Willow™ Home, on either side of the bed? Are the bulbs dimmable? Are there enough electrical outlets? Most people travel with at least three chargeable devices. This power strip, which offers five rotating outlets and two USB ports, will keep you from hunting for spare surge protectors at inopportune moments (such as the night before Christmas).
A hotel-quality robe and slippers—even goofy ones—can make your visitors feel well taken care of, and abundant empty hangers will thrill those who like to keep their quarters tidy.
A Comfortable Climate
Putting the ability to control their environment—creating optimal conditions for relaxation and sleep—will make your guests' stay more comfortable. To that end, it's a good idea to keep a fan and a space heater on hand. This ceramic tower heater from Lasko® and fan from Vornado® both have remote controls, which are positively luxurious for those looking to warm up a room before pulling off the covers, for example. A sound machine like this popular model from Lectrofan will help guests design their own sleeping soundscape.