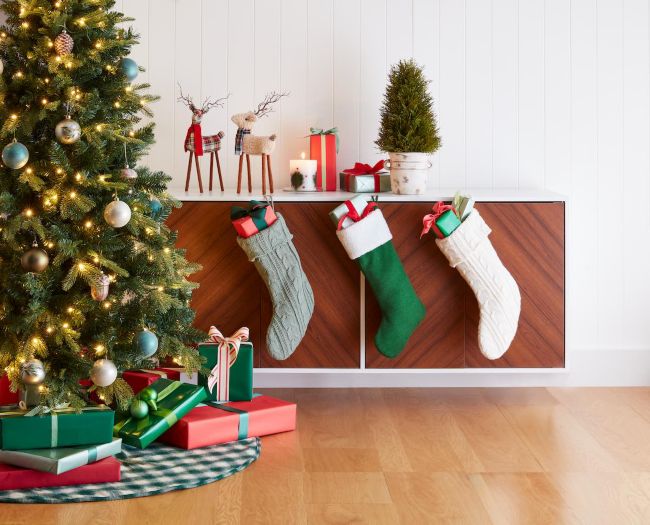 7 Christmas decoration ideas that are fresh, fun, and stylish
As the classic song goes, "It's the most wonderful time of the year." And we all know what kicks off this most wonderful season: Christmas decorations! Whether you plan to adorn your whole house or maybe just a small living room, decorations bring a magical feeling to the holidays. From modern to vintage, farmhouse to fanciful, we have so many great ideas for spreading good cheer.
1. bring modern Christmas decor to any room
Fresh greenery, clean whites, and pops of plaid are the perfect formula for a wonderfully modern Christmas. Keep your backdrop neutral (you can never go wrong with whites and grays) and mix in sophisticated colors like forest green and navy. Your modern Christmas decor doesn't have to be overtly holiday: Vases in clean glass and smooth ceramic look chic on a mantle, while stockings in shirting fabrics like plaids and stripes are elegantly understated. When it comes to your wreath and garland, try something unexpected like eucalyptus—the color is stunning and the scent, heavenly.
See more Christmas decor ideas here.
2. turn your coffee table into a winter wonderland
No need for a big tree or a mantle this Christmas, especially if you have a small living room. With a little imagination, your everyday furniture can be used to display a festive holiday centerpiece. Clear off an end table or coffee table and use the surface space for anything from vintage Christmas decorations you've had forever to modern decor you've recently discovered. Another idea: DIY your own diorama! Forage your backyard or neighborhood park for pinecones and greenery, and arrange them on a tray with candles in varying heights. Where to show off your wrapped gifts? Under the coffee table, of course! It's a fun and creative solution, and a smart way to save space in small living rooms.
See more indoor Christmas decor ideas here.
3. choose a coastal decor theme
The ocean, shells, and sea life might not be the first things that come to mind when thinking of Christmas decoration ideas, but a coastal theme can actually be super fun, festive, and easy! Did you collect an assortment of shells or sea glass on your last vacation? Repurpose them as ornaments by simply adding twine loops with glue, or string them together on fishing line for a creative garland. Mix in a few silver ornaments and white lights for extra shimmer, and add a spritz of faux snow for a vintage touch. Choose a tree skirt in a color scheme of ocean blues, or even one that's festooned with sea life… and have yourself a beachy little Christmas!
4. spread good cheer in your kids' room
The exterior of your home and the living room are obvious places for Christmas decorations, but what about a child's room? There are so many easy ways to bring holiday magic to their bedroom, and you only need to follow one rule: Make sure it's fun! Switch out their bedding for a joyful color scheme, and string a pom-pom garland or popcorn across the walls for an extra festive touch. Another fun decoration idea is to place a cute little tree on the floor or a bedside table. On Christmas eve while they're fast asleep, sneak a present under the tree! The look on their faces will be their own special gift to you.
5. decorate your porch with faux snow
Is there anything more magical than waking up to a blanket of fresh snow on Christmas morning? If you live in a climate where the chance of that is nil, there are still whimsical decoration ideas that can help you create your own white Christmas. Try spritzing traditional greenery with faux snow, or choose an all-white color scheme and winterize your front porch. Mix in winter berries for a rustic farmhouse touch, or go thoroughly modern with clear lights and extra shimmer.
6. create a farmhouse feel
Bring all the cozy vibes to your home this season with rustic Christmas decor—the perfect blend of farmhouse and vintage appeal. Fresh greenery adorned with pinecones and twinkly white lights is pure magic, while a nature-inspired centerpiece brings the outdoors in. Wrapping your gifts in craft paper is not only easy and affordable, but it also looks extra charming. And a stocking in lumberjack plaid simply brings it all home—as cozy as your favorite winter flannel.
Monograms are a timeless way to bring holiday cheer to your home. Light up every face in the room with their own personalized stockings, and custom-order some cozy home furnishings decorated with your last name. The Christmas season is also a great time to gather together for some family DIY: Try painting a wooden sign and hanging it over the mantle for rustic charm, or create your own ornaments with a little felt, glue, and popsicle sticks. Don't forget to sign your name and add the date—you've just created a holiday keepsake.
See more holiday decor ideas here.