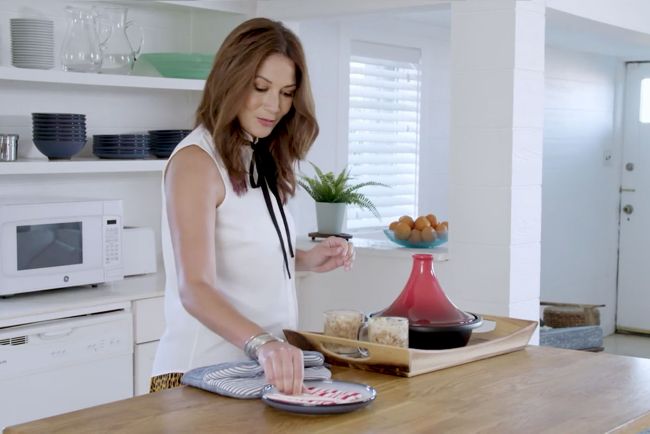 unleash holiday cheer with a little creativity
If you're wondering how to celebrate without your standard holiday plans, here are some thoughts and tips on scaling down without skimping on the connection, gratitude, and joy we're all craving.
File this under Silver Linings: Fewer guests means more splurging! You can treat a small party to extra-special wine or prepare an ambitious dish that's too labor-intensive to make for a big group. The same goes for parties of two—or one! Enjoy this opportunity to indulge in the finer things without breaking the bank.
You might choose to expand your small holiday gathering via Zoom or FaceTime. The digital space is rich with creative possibilities: festive backdrops, coordinated menus, video and slide shows, mixing things up with breakout rooms, muting Uncle Pete. It might be so fun, you'll find you have a new tradition on your hands. If you do plan to produce a semi-virtual holiday feast, try an online dinner with a few friends or family members first to test the pros and cons of your platform.
It's easy to make a cheery outdoor party zone in your own backyard, garage, or nearby park. Little touches will make your guests feel pampered and relaxed—think throw blankets, rustic lanterns, hot cocktails, and cute to-go containers for leftovers. Guests can rest plates of food on TV trays or stools, snuggled into Adirondack chairs around a firepit, portable fireplace, or patio heater.
Want to stay formal? A patio pergola or gazebo creates an instant room, ready to shelter your dining room table. (You can set up most of the versions we carry in under a half hour.) Heighten the festive atmosphere with a generous helping of candles, fairy lights, or lanterns—whatever suits your mood.
Maybe it's just you and your honey this year. Take the rare opportunity to celebrate each other without distraction. Your favorite holiday recipes can be modified for two. Or give yourself permission to try something new—make pizza together or slurp up a couple dozen oysters and wash them down with chilled champagne. Go ahead: put on your party clothes, set aside your thoughts about what the holidays are supposed to be, and enjoy an experience you'll never forget.
Yes, there are downsides to spending the holidays alone, but what about the perks? This is a time to indulge yourself. Build a whole day (or weekend) around what you—and only you—feel like eating and doing. Do you prefer pecan pie to pumpkin? Or would you rather ditch the pie entirely and have a hot fudge sundae? Go for it! You make the rules. Pamper yourself with a hot bath, a juicy novel, a long run, ascending five levels on that video game you're obsessed with. It might feel nourishing to reach out to older relatives, or pack and deliver food to the homeless shelter. And, if you feel like it, there's no reason you can't take a seat at the holiday table of your choice via technology.
get last-minute things fast
Our best holiday tip? Buy online and get your order free and contactless with Curbside or Store Pickup within two hours. Or, get it ASAP using Same Day Delivery for as little as $4.99. And with a BEYOND+ membership (for just $29 a year) you'll save 20 percent on your entire purchase every time you shop.