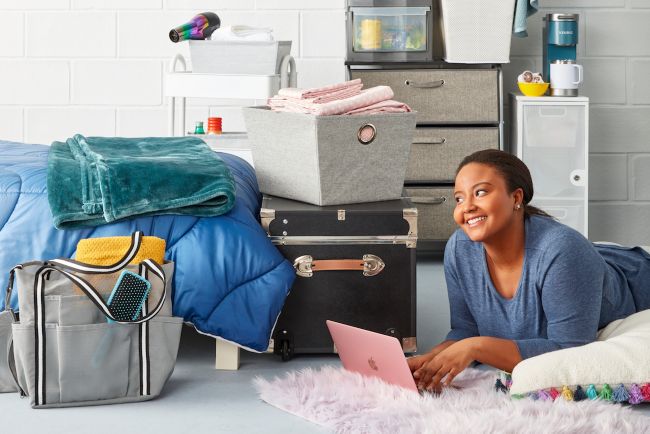 Back to School
Student Faves: Real Students Give Their Top Picks for College
Put these must-haves on your shopping list.
If you're starting to think about fall semester, you've probably got a lot on your mind. Although this year might feel a little different, it's more important than ever to be set up for success, starting with your room.
Because College is our thing, we're excited to be able to help you find everything you need to rock this semester. But we also thought that you'd probably want to get the low down from some actual students, who are living the college life right now. So, we asked some Her Campus InfluenceHer Collective members for the things they can't live without. Whether you're on-campus or studying from home, this is the ultimate shopping list.
Influencer Headshots Courtesy of Her Campus Media
There's a lot to say about dorm beds, and not a lot of it is good. If you're living in a dorm, your mattress won't be very plush, and a lot of people have been there before you. A lot. But, think of it as a blank canvas, layer on some great bedding, and you'll be sleeping comfortably (and in style) all year.
Mattress Topper
A mattress topper is an additional layer that enhances the comfort of any mattress. You're going to want one of these on your bed.
Meet Lauren T.
@lauren_trythall
School: Loyola University Chicago, class of 2021
Why She Loves It
"I bought this one for my freshman year dorm room! I was so thankful I had this because it made the mattress in my room way more comfortable. I never felt uncomfortable in bed. This was definitely a lifesaver."
The Details
This topper conforms to your body's natural shape and changing movements throughout the night, and the Active Air Technology allows for breathable airflow. It also has a Nanotex Coolest Comfort cover, which wicks away moisture to keep things extra fresh.
Sheets
You'll need sheets on your bed. We recommend getting two or three sets so you can change them without having to do laundry immediately. Most dorm room beds will be size Twin XL, so look for that when you're making your purchase.
Lauren T's Pick
Why She Loves Them
"I love Egyptian Cotton sheets because of how soft they are, even after washing them a ton! They're super breathable, which is great–you won't overheat while sleeping."
The Details
Made of Egyptian Cotton, these sheets are seriously soft to sleep on. They're 350 thread count and come in a variety of colors.
Pillow
A good night's sleep has a lot to do with what you're resting your head on. Finding the right pillow, whether you're a back, side, or stomach sleeper is super important.
Meet Dakota L.
@missdakotalynne
School: Washington State University, class of 2020
Why She Loves It
"I love Tempur-Pedic® and have been a fan of their brand for so long! As a digital creator, I spend a lot of time in front of my computer and love making sure my neck and shoulders are supported while I sleep. This is the perfect pillow for me!"
The Details
Made from a single piece of TEMPUR® material, this pillow provides great head, neck, and shoulder support. It holds its shape and won't flatten out, even after years of use.
Comforter or Duvet Cover
Top your bed with something that feels and looks great. You can choose to match or coordinate with your roommate or do your own thing. There are no wrong answers here.
Meet Jazmin S.
@jazminscheitel
School: Middle Tennessee State University, class of 2020
Why She Loves It 
"The UGG® brand has never let me down. I love that it is machine washable and that it's soft as a cloud. Who doesn't want to sleep on a cloud?"
The Details
A duvet cover is great for a dorm room because you can wash the cover without having to drag a whole comforter to the laundry room. We love this one from UGG® for its neutral colors and sophisticated vibes–it goes with everything.
Meet Gabrielle R.
@gabriellearobinson
School: University of Southern California, class of 2020
Why She Loves It
"Sherpa and bedding all in one! Absolutely amazing, soft and everything that a girl could want in her bed!"
The Details
If a comforter is more your speed, we love this one. The best part? It's reversible. It's fleece on one side and features a Sherpa fabric on the other. So cozy, so soft.
Showering is a daily (or almost daily) necessity. You'll need to bring all of your products with you, and stock up on the basics as well.
Towels
You're going to need some towels, and we recommend getting a few of these as well, so you can switch them out without doing tons of laundry.
Meet Andrea V.
@andreadivalentina
School: Belmont University, class of 2021
Why She Loves It
"I love supersoft towels when I get out of the shower! I feel like it really helps me relax, and the fact that it's highly absorbent is a plus!"
The Details
Made of Wamsutta Ultra Soft MICRO COTTON, these towels are soft, absorbent, and they'll maintain their color, even after multiple washes. The dorm room laundry machine has nothing on these!
You may be a laundry pro, or it's possible you've never done it before. If you are doing your own laundry, you'll need a few things.
Laundry Basket
Bring lots of detergent with you and get a great basket. Once laundry day comes, you'll want one that holds lots of clothing and is easy to carry.
Meet Jasmyne N.
@jasmynemarienguyen
School: University of Colorado Denver, class of 2021
Why She Loves It
"Living in a small space, I love anything that can compact or store easily! This is ideal because it can go in my closet after!"
The Details
This basket was practically built for dorm life. While it collapses flat, it can hold two loads of laundry when it's expanded. It has comfort-grip handles for easy carrying, it's ventilated to prevent smells, and can easily be wiped clean.
Steamer
We love steamers because they can be super compact, easy to use, and work really well. In college, they're a must-have. They'll make it so that great Saturday night outfit you picked out is never ruined by wrinkles.
Meet Liana H.
@liana.danielle
School: Rollins College, class of 2020
Why She Loves It
"I've purchased cheaper steamers and really struggled with them. I'm willing to spend more for an easier and quicker steam!"
The Details
College or no college, this is one of our favorite steamers. It's powerful, it stands on its own, and it has a slim design for easy, compact storage, which is essential in small spaces.
If we're the ones breaking this to you, we're sorry, but chances are, your closet is going to be really small. That means you're going to need to save space wherever and however you can.
Hangers
You'll need to get hangers, and we recommend getting a bunch of them. Drawer space will likely be limited, so you may end up hanging more than you think you'll need to.
Meet Taylor H.
@taylorhartlein
School: Baylor University, class of 2021
Why She Loves It
"As someone who loves fashion, I take pride in my closet. The flocked hangers are the cutest option and at the same time, a more useful non-slip option."
The Details
These are another favorite that goes way beyond college. The velvety covering and flocked top of the hangers will hold your clothing in place, and they're slim, which means the closet can hold more of them. This set also comes with an accessory bar for a belt, scarf, or tie, so you can lay out a whole outfit on just one hanger.
Shoe Racks
Keeping your shoes in neat lines on the floor is a good idea in theory, but in practice, those neat lines end up becoming one disastrous pile. Trust us when we say you'll need a storage system.
Meet Natalie H.
@nataliehim
School: Cosumnes River College, class of 2021
Why She Loves It
"My favorite decor styles are farmhouse and boho! This shoe rack definitely fits into both styles perfectly. I have many shoes and I always like to buy shoe racks that can hold a good amount, while also being stylish!"
The Details
This rack holds up to 12 pairs of shoes and folds flat for storage. Are you sensing a theme here with things that fold flat?
Small spaces mean things get messy easily. Being organized and staying on top of cleaning will make your life a lot easier.
Vacuum
Your dorm room is your bedroom, but it's also your living room, your study space, your kitchen, and your dining room. That means a lot of foot traffic, crumbs, and more things that you'll want to clean up. Put a vacuum on your shopping list.
Andrea V's Pick
@andreadivalentina
Why She Loves It
"This is a super easy vacuum to use! Emptying out my vacuum is honestly the worst part for me and the fact that you can clean this one in a single action is awesome."
The Details
This vacuum is great for quick cleanups, which makes it perfect for a small space. It also easily goes from hard surfaces to low-pile carpets and area rugs, plus, it's lightweight and easy to store.
Oscillating Fan
Since the weather will likely still be warm on move-in day, your room will be, too. Even in the newest dorms that have air conditioning, you'll probably want a fan, so you have more control over the temperature. Choose an oscillating tower fan to keep you, your roommate, and your space cool.
Meet Fatima N.
@fatima_holla
School: Rutgers University, class of 2021
Why She Loves It
"I like this fan because it has a timer feature–you can use it overnight."
The Details
We love the timer too, but there's more you should know. It has a remote control, is quiet, has LED-lit controls and 3 speed settings. It also has a handle, so when your roommate is out of town for the weekend, it's easy to move the fan over to your side.
Blender
If you drink smoothies regularly, bring a personal blender with you. It will come in handy for healthy and quick on-the-go breakfasts.
Lauren T's Pick
@lauren_trythall
Why She Loves It
"I bought this freshman year and still use it today! It's small and easy to store so you're not wasting a ton of space. I love how easy it is to use and clean."
The Details
This is great for smoothies, but once you're out of the dorm and doing more cooking, you can also use it for mixing and chopping ingredients for other dishes and making sauces and dips. It comes with three cups and two lids, so you can use the cup you blend it in to drink out of. Super efficient.
Coffeemaker
Access to a cup of coffee without leaving your room is a beautiful thing. You can probably find coffee in your dorm cafeteria, but you may want your own machine as well to quickly and easily make a cup to take with you on your way to class.
Meet Madison G.
@the.insideview
School: Metropolitan State University of Denver, class of 2021
Why She Loves It
"I love K-Cups and all the options they bring. I love how it's not limited to coffee, too. You can make tea, lemonade, and hot cocoa!"
The Details
For a quick single-serve machine, the Keurig® K-Mini Plus™ Single Serve K-Cup® Pod Coffee Maker is our go-to. It's great for small spaces and for roommates with different tastes. You can both have whatever drink you like in less time than it takes to brew a pot!
Hair Dryer
Whether you style your hair regularly or not, a hair dryer is a must-have. It's great for the times when you want to do a little something extra with your look, but it's also good for drying your hair quickly before you leave the building on cold winter days.
Meet Nicolas C.
@niclastname
School: Indiana University, class of 2022
Why He Loves It
"Brushing, styling, and drying my hair at once is a dream come true."
The Details
College students are often short on time and the last thing you're going to want to do is spend hours on your hair. We love this tool because it dries and styles in one step. It doesn't hurt that it's small and lightweight, either.
Find all of our Student Faves for college here! For checklists, ideas, and more, click here!
The views and opinions expressed by the InfluenceHer Collective members are expressly their own.