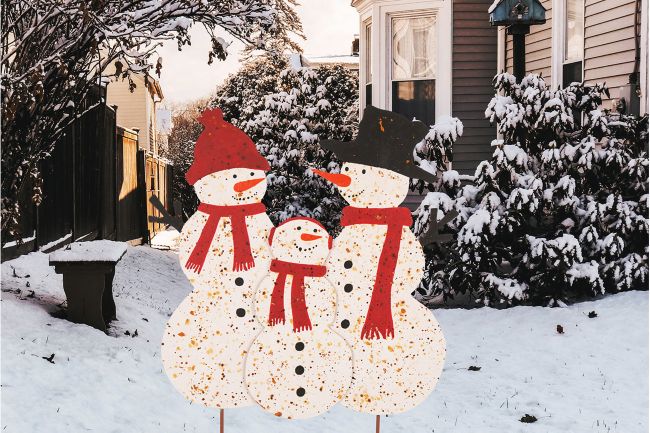 How We Holiday
Yuletide, Outside: The Best Outdoor Holiday Decorations to Wow Your Neighbors
Our most Santa-stopping outdoor decorating ideas will guarantee that you get him to stop at your place first!
Even the grinchiest among us is prone to letting out an ooooh or two when encountering a spectacular holiday lights display—it's definitely one of the best parts of the season. If you've ever wanted to step up your reindeer game outside your own home, read on for some very doable ideas built around a few key pieces. You'll be able to go from nailing to wassailing in no time!
Grab your mittens and get ready for a gleaming-white dusting of snow, no matter where you live! Just set up these pre-lit winter trees that glisten dramatically with icy branches. Fill your windows with a glowy backdrop of large sculpted snowflakes, enhanced further by projections that cast a moving "snowstorm" across the front of your home.
To truly transform your yard into a romantic Christmas movie, bring in a playfully detailed street lamp and sparkly light-up sleigh. Hot chocolate is optional, but we're pretty sure you're going to want plenty (along with marshmallows).
While you may not currently live in a fairytale cottage, channeling some of those wild-yet-whimsical forest vibes outside is even easier than waving a wand and saying "Bibbidi bobbidi boo!" Illuminated deer, owls, racoons, and other forest friends are a snap to set up.
Pre-lit garlands studded with pine cones help further set the scene. Extra decor to try: an old sled or child's wagon; a wood or chalkboard sign customized with your family's name, plus repurposed garden statues such as gnomes or toadstools; lots of soft white lights.
The Sweet Treat Treatment
Anything covered with icing always looks inviting. How about wowing your guests with this tribute to Christmas cookies, candies, and other goodies? You can go for a dreamy candy cane-scape that will cast a festive glow all across your front lawn, with round gumball-shaped string lights adding a pop of color.
Or set up this inflatable, elf-driven truck for a true neighborhood showstopper—its "cement" mixer actually spins! Be sure to put out an adorable gingerbread doormat as the final cherry on top, because you're going to have a lot of company.
Long familiar in American Southwest and Hispanic traditions, luminarias are now lighting up the holidays everywhere. For added safety, these bags are lit by electric candles, with options like a remote control or timer shut-off. They make a serene backdrop to a gilded, star-lit nativity.
You can also drape the rest of the yard in colorful, traditional Christmas lights, along with beaded garlands in rich tones of purple and pink. Frame the doorway with pre-lit hanging baskets that evoke the stately simplicity of New Mexican pine. Then stand back, relax, and take in the full spirit of the season.
The holidays are all about spending time with loved ones—which includes everyone's favorite childhood characters. Give Cookie Monster and all his pals the fanfare they deserve by grouping related characters in curated zones around the yard. Set up Peanuts™ in one area, accented by vintage-style bubble lights for a nod to nostalgia. Give the Grinch his own spot to heckle passersby, surrounded by icicle and snowflake lights. This is also a fun opportunity to add music to your display through outdoor speakers. Or, if you get lucky, your cheery menagerie just might inspire an impromptu caroling session outside your home!