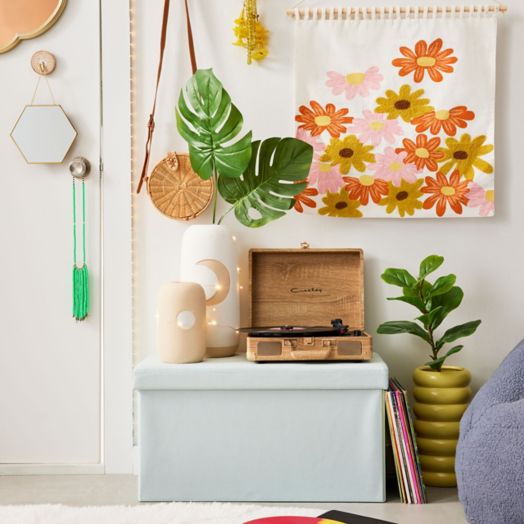 10 dorm room essentials you didn't know you needed
after you've covered the basics, add these to your college checklist
'Tis the season to make your list and check it twice. And no, not that season, just the one you're prepping for… college Move-in Day! While you may have all the essentials checked off and in your cart, here are a few that often fall off the radar.
These raise the height of the dorm bed and create space for extra storage under it. A perfect place to keep things out of the way and tucked out of sight. Bed risers with power outlets built into them get extra credit for dual functionality.
Whether it's to easily climb onto a raised bed or to reach something on a high shelf, you'll be surprised how often a step stool comes in handy.
An ottoman is a handy place to sit while putting on shoes, as an extra seat for visiting friends, or for storing throw blankets, extra linens, books, etc.
If there's a shared bathroom situation in your dorm, bathrobes and wraps are gotta-haves for hopping out of the shower and back to the room without an awkward towel malfunction.
If coffee is your fuel, a single-serve coffee maker is a no-brainer. These are some of the most popular—they're small, easy, and cool-looking.
Of course you want a full head-to-toe outfit view. Get one that hangs over the door to save space.
It's inevitable. Somebody's going to stub a toe, get a splinter, or suffer a mean headache. Keep one of these handy.
In a shared space nobody likes an ugly overhead light, so attach a clip-on lamp to your headboard. It gives off more focused lighting and won't disturb a sleeping roommate.
While a regular vacuum is great for the larger areas, having an easily accessible handheld is perfect for little messes and the often neglected under-the-bed space.
A lot of students prefer not to spend long hours in an uncomfy dorm desk chair. A lap desk is the perfect solution.
The easiest way to get your stuff to campus! With Pack & Hold, buy now, and pick it up near campus on Move-in Day.