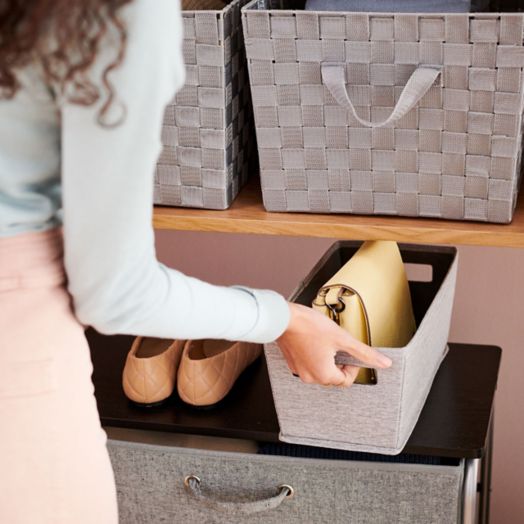 10-minute small space re-org
it's a cinch to get organized if you tackle one space at a time
Today's the day. You've penciled in time on your calendar to organize your pantry, closets, laundry room… even, gasp, underneath the sink. You're well-rested and just downed a ginormous cup of coffee. It's time to start. Wait, where do you start?
It's easy to feel overwhelmed when you try to do it all at once. Instead, break it up into smaller chunks, starting with one space at a time. With 10 minutes dedicated to each space, plus the help of top-rated storage items, your home will be neat and tidy in no time.
Whether you're organizing your clothes closet or your linen closet (or ambitious enough to tackle both), start by emptying the space and taking inventory of what you have. Hello, forgotten little black dress!
If you're short on shelf space, a hanging shelf is a great alternative for clothes, towels, and sheets. Collapsible storage bins are versatile and can be put away when not using. And, if you're looking to make a big change, a full closet organizing kit might be just what you need.
There's nothing like piles of shoes to make you feel slobby. There are several ways to store your kicks. Tiered racks (some even expand) can hold lots of pairs. Or choose a rack that hooks onto the back of your door or hangs from your closet rod.
Tip: Store off-season shoes in under-the-bed bins.
Pantries are high traffic zones, with people reaching in to grab food throughout the day. Your goal is to make it easier to find what you're looking for. Start by emptying your pantry, throwing away anything old and grouping items by category.
Dry goods: Boxes and bags of pasta, flour, sugar, and cereal take up valuable room and often spill, leaving a mess. Clear, lidded canisters help you save space AND keep your food fresher longer. Without bulky packaging you'll be able to find what you need, fast. Add a scoop to make food prep a snap.
Spices: All those little bottles add up. And seriously, how many times have you bought more pumpkin pie spice because you forgot you had some at home? Select a spice rack that spins, pulls out, or is tiered.
Snacks and cans: Set up your pantry with efficiency in mind. Put serving-size snack packs in clear bins to grab and go. A can holder is a safer way to stack canned goods. And if you need more storage, choose an over-the-door shelf.
Turn your laundry room into one of your fave rooms with a few simple updates. A hamper that doubles as a helpful laundry sorter will save you time. Put detergents and fabric softeners on a wheeled cart that rolls out for easy access. And don't forget an adjustable drying rack that folds away when you're finished.
From bathrooms to kitchens, maximize your storage space by utilizing the area underneath sinks. Shelves are great for stacking cleaning supplies or extra toiletries while bins pull out easily.
Ready to get organized? Remember, take it one space at a time. You've got this!