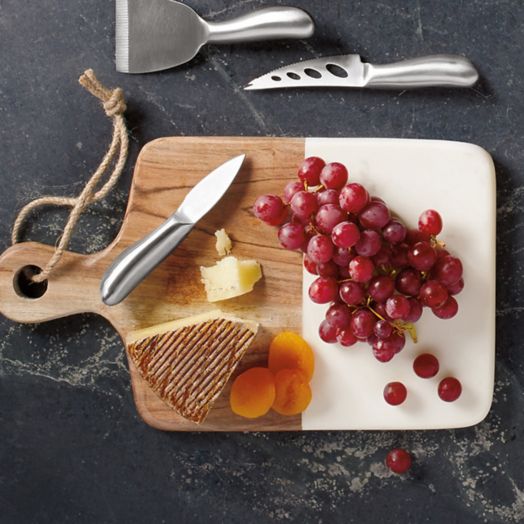 17 last minute wedding gifts the married couple will love
Check out these great last-minute wedding gift ideas for the newlyweds' kitchen, living room, bath, patio, and more.
Attending a wedding in a few days but still haven't decided on a gift for the newlyweds? Fortunately, there are plenty of thoughtful wedding gifts you can grab at the last minute that still exudes careful planning and attention to detail. Our guide to wedding gifts you can get in a pinch has you covered! Check out the 17 best last-minute wedding gift ideas.
Most households have cutting boards, but few have really
nice
cutting boards. If you want your gift to stand out, go for marble.
Marble cutting boards
are more hygienic than the wooden and bamboo versions. They're also exquisitely stylish and in vogue for those who follow kitchen décor trends. You just can't go wrong with a stunning pearl-white marble board.
2. outdoor dinnerware and serving sets
If you're shopping for a wedding gift at the last minute, there's a good chance someone else already snagged dinnerware from the registry. You can still grab an impressive gift in this category. Couples rarely think to register for
outdoor dinnerware
because they're so focused on getting their cabinets properly stocked. Gorgeous, durable melamine dinnerware sets and serving platters will give the couple a great option when hosting outdoor parties and cookouts for years to come.
Newlyweds are officially in memory-creation mode. That means they can never have enough picture frames. The beautiful picture frames you pick out today will display photos of pets, kids, new homes, vacations, holidays, and all the other images of loved ones and milestones that "make a life." A show-stopping gift like a crystal picture frame is likely to become a family keepsake. If you're unsure about a couple's personal style, acrylic picture frames help you avoid a style commitment.
If you're buying wedding gifts for a couple with a home, consider giving them some home-enhancing smart features. Smart doorbells, smart thermostats, voice-powered audio systems, smart shower curtains, and wireless outdoor speakers are just some of the high-tech gifts for couples. Going smart is a wise way to give a couple a gift that nobody else has thought of.
A gorgeous glass beverage dispenser with a spigot that sits on a stand is always a hit. Glass dispensers are great because they allow hosts to offer a self-serve drink station featuring tasty lemonade, iced tea, fruit-infused water, or mixed drinks. In addition to putting beautiful elixirs on display, the design ensures that the host always knows when refill time is near. Rest assured that this is something couples will use every time they host.
6. extra bedding and linens
You're not too late to hop on
bedding
if someone else already picked up the main set a couple has on their registry. In fact, you can use the size requested on the registry to select a gorgeous backup style for the couple. Nobody lives with just one bedding set. A backup set is great for laundry day. Don't forget that guest bedrooms need bedding, too. You can also consider a gorgeous quilt or blanket that complements the set on the couple's registry if you want to stay on theme.
A tea drawer or tea box organizer is the ultimate "cozy" wedding gift. In addition to being ornamental, this gift is a practical way to help a couple display their tea without cluttering the kitchen. Tea carousels, lockers, shelves, and boxes are all delightful. Consider putting together an entire "tea suite" by adding matching mugs, a tea ball, and some delicious tea bags to the gift.
8. sensor-activated trash can
If you're shopping for a practical wedding gift idea for a no-nonsense couple, consider giving them a life upgrade with the kitchen hack known as the sensor-activated trash can. Why are these great? Nobody wants to tangle with a trash-can lid when their hands are full in the kitchen. While a couple might not think that a trash can is pretty enough to put on a registry, you can be sure that they will be singing your praises every time they enjoy hands-free trash handling in the kitchen.
A fully decked-out picnic basket built for lunch with wine in the park is such a romantic gift for newlyweds. You'll be on their mind every time they take it out for a picture-perfect afternoon picnic, concert in the park, or sunset cheese-and-crackers spread on the beach. Make sure you're really pampering the couple with a large picnic basket with a padded interior, compartments for utensils, and handles for easy carrying.
A robot vacuum is the next best thing to hiring a housekeeper. We think this is one of the best last-minute wedding gifts because it's highly practical and perfect for busy couples. Want to make it more personal? Include a note letting the newlyweds know that you chose this gift because you want them to spend more time enjoying life instead of cleaning!
Show a newly married couple how to keep the flame going with a bonfire pit. Have you seen these cool portable fire pits? They're ideal because they offer all the warmth, ambiance, and marshmallow-roasting potential of a traditional fire pit with none of the work. In fact, a stainless-steel pit leaves essentially no smoke or ash. It's a perfect gift for a couple that likes to blend quaint and outdoorsy with neat and aesthetically pleasing.
A ceramic or stoneware casserole dish can be the beginning of a lifetime of savory home-cooked meals. Unlike many fly-by-night pans, a high-quality casserole dish bakes food to perfection while also looking beautiful at serving time. Choose a casserole dish with a bright, bold color to make your gift really stand out.
Do you happen to know that the couple you're shopping for is going on a fabulous honeymoon after the big day? Consider getting them an attractive and sturdy weekender bag that will come in handy during their travels. You can even go for matching weekender bags to ensure that the couple is jetting around in style.
Is the lucky couple honeymooning in Europe? With a nice espresso maker, the newlyweds can relive their memories of spending lazy afternoons hopping from café to café whenever they want. And if they aren't already espresso fanatics, a barista machine with settings for cappuccinos and lattes could convert them. This is a splashy, sophisticated gift that keeps on giving with every cup that's brewed.

Nobody needs to relax like a couple in the days following a whirlwind wedding experience that took months to plan. A scent diffuser is a great self-care gift for couples after they've done all the planning, corralling of the wedding party, managing of relatives, and smiling for photographs that go along with a typical wedding day. A diffuser is simply a great pick if you're looking for a small, simple gift.
This item on the list of the top last-minute wedding gift ideas is something that very few couples think to include in their registries. However, a pasta machine can create a lifetime of fun in the kitchen. Homemade pasta makers allow amateur chefs to whip up fresh spaghetti, fettuccini, angel hair, ravioli, and many more pasta styles in their own kitchens.
Are you completely stumped over what to give as a wedding gift at the last minute? For some couples, the best gift of all can sometimes be no gift at all. No, that doesn't mean showing up to a wedding empty-handed. One of the best last-minute wedding gift ideas if you're in the mood to "travel light" on your way to a wedding is to simply give a gift card. Many couples are relieved when they receive gift cards because they are getting the green light to spend their gift money however they choose at their favorite store. You never have to wonder about where to buy last-minute wedding gifts. It just takes a minute to snag a
Bed Bath & Beyond gift card online
in the amount of your choice. Who said wedding gift giving can't be a piece of cake?
Leave the stress behind if you're looking for a wedding gift at the last minute. These much-wanted wedding gift ideas that are easy to snag in a rush will put you in the good graces of the happy couple for years to come!