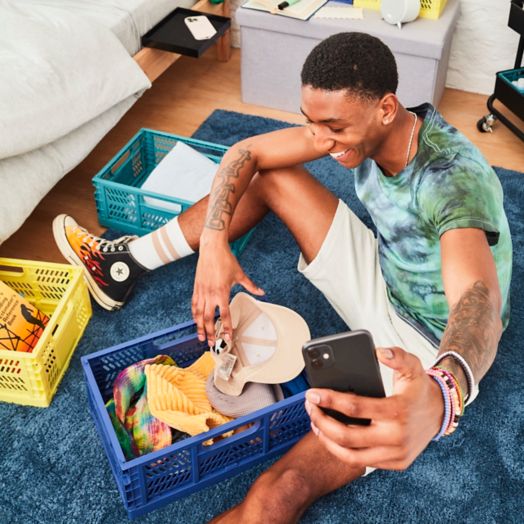 4 dorm room storage solutions & ideas
4 innovative dorm room storage designs and ideas for 2023
There are plenty of upgrades in dorm room storage ideas and designs for college living this year. You can organize your room with innovative carts, shelving, baskets, bins, and more while looking updated and stylish. Neat and sleek can be today's coolest fashion, free of tiresome clutter and confusion.


This year's versatile storage designs can also free up essential floor space in your room. No more stumbling over unruly stacks of storage boxes and teetering bins. With these latest storing options, all of your belongings can be close at hand yet neatly stored for comfortable and functional dorm room living.
savvy dorm room storage ideas and options
Today's top
college
dorm room storage ideas and options for the ultimate college dormitory lifestyle include the following four savvy design modes:
1. storage carts & shelving for sleek & functional decor
New ideas and designs in
storage and organization
via convenient carts and shelving are abundant this college season, and many have wheels for easy mobility. These choices for dorm room storage ideas are both attractive and practical for dorm room furnishings and storing books, computers, and supplies. Tier and drawer storage carts are big this year, as are metal mesh drawer carts and clear plastic drawer chests.
Freestanding (or rolling) open metal mesh shelf units and tier wire shelving are also high in popularity. These storage options can give even the smallest of dorm rooms an open, airy feeling. Wire grid shelf units and adjustable tier dorm room storage racks are also high on the list of functional favorites.
2. storage bins and baskets for chic organization

Appealing and stylish, storage bins and baskets are great space savers for dorm room storage ideas. Available in myriad sizes, shapes, and color choices, these stowing options can also brighten your room and everyday mood. Metal and plastic bins are great for storing digital devices, shoes, or athletic equipment.

Baskets are ideal for stashing softer items that are easily folded or rolled like T-shirts, sweaters, scarves, and soft hats. You can choose from collapsible or stackable storage bins, plastic wicker storing baskets, coiled rope baskets, or woven storage bins. There are styles and colors to suit all tastes in these versatile bin and basket options for dorm room storage.


3. underbed storage and caddies to banish dorm room clutter
Underbed storage & caddies
are valuable space savers in today's dormitory rooms. These helpful dorm room storage ideas and designs transform the unused space under beds into ideal storage areas. You can keep shoes, books, computers, audio and video equipment, and many other items safe and handy in underbed storage.
Store seasonal clothing beneath your dorm room bed in these lightweight, yet durable containers. Underbed storage options include stacking drawers, storage bags (soft or structured), woven caddies, canvas shoe organizers, and rolling storing boxes. These are all ideal dorm room storage choices and space savers.
4. luggage & storage trunks to store away your clothes

You can use suitcases, duffels, and trunks of different sizes for all types of travel today. Large bags and storage trunks can be especially helpful for storing seasonal clothing and gear in your dorm room closet. Soft fabric or vinyl duffels often fit snugly under your bed for stowing extra clothing, boots, shoes, or jackets. They make savvy dorm room storage options.

In addition, storage trunks can double as rustic-style tables or seating. When covered by woven mats or a café tablecloth, your trusty travel trunk can be a comfortable gathering spot. You, your roommate, and dorm buddies can relax around your travel-trunk-table, sharing beverages, snacks, and lively conversation.
how many storage bins should I bring for college?
This depends on the type of bins and other storage options that you bring to your college dorm room. If you bring only bins, a combination of stacking bins, collapsible styles, and bins of varied sizes may be the most helpful.

Yet, if you choose different designs in bins, bags, and underbed storage containers, a mix of sizes and shapes may be your best bet. Remember you can also use your luggage and your travel trunk as trusty storage options.
how can I raise up my dorm bed for storage?
You can purchase bed lifts or risers to elevate your bed and make more storage room underneath. These bed lifts are inexpensive and sturdy to ensure that your bed is steady and comfortable for sleeping.
There are many helpful ideas and solutions for effective dorm room storage today. From varied designs in carts and shelving, bins and baskets, underbed storage, luggage, or trunks, many choices await you. Examine these versatile dorm room storage ideas and options. Then, consider your own stylistic and practical preferences. Now, you are ready to make your own purchasing decision for fashionable and functional college dorm room storage.
Want to see all our storage & organization ideas, solutions, and tips? Read more here.