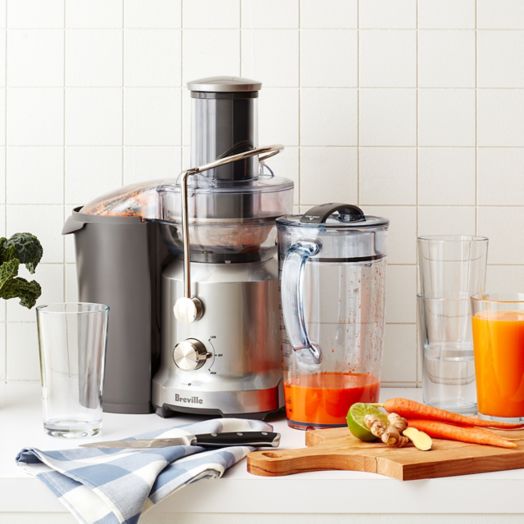 4 good-for-you juices & our favorite juicers to make them
stay healthy this winter with these easy blends in a rainbow of flavors
It boosts your immune system, gives you extra energy, promotes healthy digestion, and is totally delicious. We're talking about juicing, and guess what? With the right juicer, the process can be incredibly easy. Read on for four our favorite juicing blends that are wonderful for the whole family. But first, you need a juicer!
The Nutribullet is designed for efficiency and convenience and makes juicing simple. At 16 inches high, its compact size is idea for small spaces, and it's also a great price! If you're looking for a more powerful machine, try the Ninja® Cold Press Juicer Pro. It features Cold Press Technology to help make more juice and less foam, and has three interchangeable pulp filters. The Breville® Juice Fountain™ Plus also is also designed with Cold Press Technology, and has a powerful 13,000 rpm motor that juices fruits and vegetables quickly, and without pre-chopping. The Omega J8006HDC is the mac daddy of juicers and is a totally-worth-it investment. It's engineered with powerful components to easily extract juice from fruits, vegetables, and leafy greens, and also comes with a cone designed for making pasta, nut butters and nut milks, and grinding herbs.
red ahead
Start with antioxidant-rich raw beets, then add any combination of strawberries, blueberries, and red delicious apples for vitamin C and a touch of sweetness. You could also throw in a few chunks of watermelon for extra hydration and flavor!
orange you glad
Full of beta carotene, carrots are a great base. Then add sweetness with orange, and a spicy kick with ginger and turmeric, which are both antioxidants and have natural anti-inflammatory properties. You could also try a few pieces of raw sweet potato! Not the first thing that comes to mind for juicing, but it's loaded with Vitamin C and B6, and is delicious with cinnamon and pear.
hello, yellow
A tropical treat on a cold winter day, pineapple, mango, and banana is a delicious escape. The immune-boosting blend is also great if you're feeling a bit under the weather. Add extra nutrients (and temper the sweetness) by adding a touch of lemon and ginger.
go green
Dark leafy greens are full of nutrients, so start with any combination of kale, spinach, and lettuce, then add some celery and cucumber for hydration. If you want a little sweetness, top it off with green apple, kiwi, banana, or pineapple.