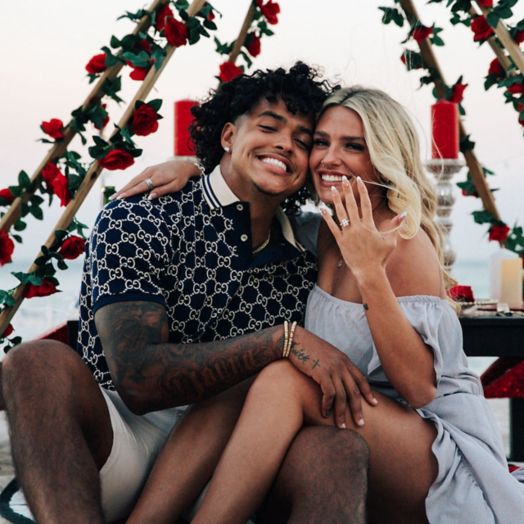 5 tips from Mackenzie Grimsley and Braden Galloway
the couple shares ideas for creating the best wedding registry
Getting engaged has been so exciting, but it can also be overwhelming! With all the steps to prepare for our big day, it's important to us to be efficient with wedding planning, including our wedding registry. Building your registry is not just about products, it's about building a home – a place that reflects the two of you and your vision for the future. We've teamed up with Bed Bath & Beyond to fill our dream home and compiled our top 5 tips to help you have the best registry experience!
1. do it together
Build your registry together so both you and your fiance have input. We easily booked an in-store appointment online and went into Bed Bath & Beyond to check out products first-hand, and made a little date out of it. While there might be a lot of things on your agenda to prepare for your wedding day, it's important to remember to slow down and enjoy each part of the process, together. Especially when it comes to your registry, you want to ensure you and your loved one are hand-in-hand curating your future home to reflect the both of you. With the in-store mode on the mobile app, we could easily scan products onto our registry and even share it with our families, because sometimes we needed an external opinion!
2. include items in various price ranges
While some guests might want to splurge on larger ticket items, some might not, so we wanted to make sure we had products in all price ranges. We absolutely recommend using Bed Bath & Beyond's registry price analyzer to make sure you have gifts in all different price ranges so guests can pick what they are comfortable with. Plus, you will definitely need both higher- and lower-priced items in your future home! Choosing a registry with a group gifting feature is key so guests have the option to chip in on higher-priced items.
3. check what you already have
Open those old closets and look inside your packing boxes to see what products you already have, and therefore don't need more of! That being said, we know things can get buried or overlooked, which is why we wanted to make sure we registered somewhere with easy returns. Bed Bath & Beyond offers super easy returns and exchanges for 365 days, so this way even if we do get "wedding brain" and end up with duplicates, we're not stuck with them. Plus, Bed Bath & Beyond partnered with Loverly to provide wedding inspiration and registry guides which have seriously helped us ensure we're not forgetting anything important.
5. don't overload one area of your house/life
Every room in your home will need to be filled and you don't want to figure out on move-in day that you forgot essentials for a certain space (ahem - the bathroom!). We used Bed Bath & Beyond's interactive checklist to ensure we had a solid foundation of must-have products for each room in our home. This list was a lifesaver in helping us stay on track and making certain that all spaces in our future house would be properly filled in. Plus, Bed Bath & Beyond's new Welcome RewardsTM program gives you $150 when $1,500 is purchased off your registry, so don't be shy about adding items you want and need!
Now, it's your turn! Go get your wedding registry started and don't forget to use all of our favorite perks, tools, and tips.