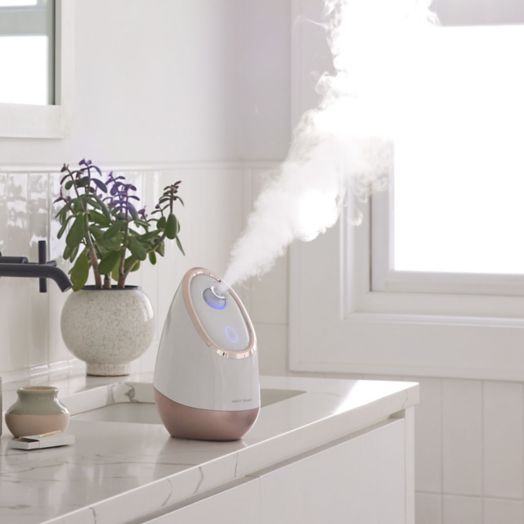 6 cold-weather beauty essentials
beat the winter blahs with these well-priced, wellness-enhancing wonders
Keeping a healthy body and mind during these cold temps and dark winter days isn't always easy. That's why we've curated a lineup of our favorite remedies to fight the chill. A light therapy lamp, for one, has been proven to boost your mood within minutes, while a body brush is a wonderful way to keep skin soft and smooth during the driest months. Read on for more of our favorite tips and tricks— and you might (just might!) start feeling good about this winter thing.
Vanity Planet Outlines™ Facial Steamer, $32.49
If you've ever had a facial, you know that it starts with a steam. It opens pores to better hydrate and heal your skin, while clarifying your complexion and promoting better circulation. This steamer is suitable for all skin types, and it's super easy to use. Try it twice a week for 10-15 minutes, and say hello to refreshed, glowing winter skin.
Verilux® HappyLight Lucent™ Light Therapy Lamp, $44.99
We all know that dreary weather and short days can put us in a foul mood. But light therapy has been proven to boost energy, enhance focus, regulate sleep patterns, and improve overall disposition. This sleek, compact design can be used horizontally or vertically, and its 10,000 lux light intensity provides a daily dose of sunshine!
Levoit Ultrasonic 2-in-1 Top Humidifier and Diffuser, $59.99
Great for small spaces, this ingenious design acts as both a humidifier and diffuser. The three mist levels help keep skin hydrated and provide relief from congestion, sore throats, and allergies. Add your favorite essential oils for a calming or invigorating fragrance.
Dr. Teal's Epsom Salt Sleep Soaking Solution in Lavender, $5.49
There's nothing like a hot bath on a cold day, and this soaking solution is extra soothing. The Epsom salt works wonders on tense muscles, while the lavender essence promotes relaxation and better sleep. And at this great price, it's a good idea to stock up — and they also make great gifts!
Sharper Image® Heated Massager Foot Bath with LCD Display, $99.99
A 2-in-1 foot massager and heated foot bath without leaving the house? Yes, please! Like a hot tub for your feet, this is designed with five programable heat settings (up to 108° F) so you can set the water temperature to your exact preference. There are also massage rollers for tired tootsies and a pumice stone to smooth skin… heaven!
Vanity Planet Body Brush, $16.99
A body brush is essential during dry winter months, and this one does it all: exfoliates and cleanses skin, increases circulation, and promotes healthier cell growth. The water-resistant, battery-operated brush is also so easy to use, and comes with four customizable brush heads.