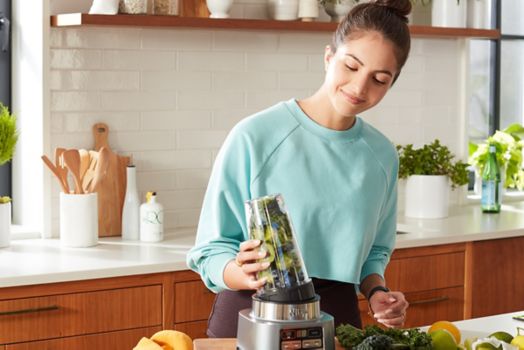 6 kitchen must-haves that make healthy eating easier than ever
upgrade your kitchen gear to make the most of your meals
If you spent a lot more time in the kitchen last year, welcome to the incredibly large club. If you spent a lot more time in the kitchen last year and liked it, even better. And if spending all that time in the kitchen made you more interested in healthy eating, and you're wondering what you can add to your kitchen to make that easier, you're in the right place (see the title of this piece).
While we love a good project (hello, Sundays!), we're all about the things that make every day easier. Here are a few of our favorite things that make healthy eating a lot easier.
an indoor grilling situation
Grilled food tends to be lower in fat and calories than its sauteed or roasted counterparts, but the real reason we like it is because it tastes so good. If you're not a huge veggie person, try grilling them. While it's typically a warm-weather activity, with the right equipment you can grill indoors. It's not exactly the same, but it gets the job done.
If you have the space to store it, we love the PowerXL Smokeless Grill. You can plug it in and use it on your countertop, and you'll get those awesome char marks you get from an actual outdoor grill. The George Foreman indoor grill is a classic piece, and as an added bonus, it doubles as a panini press. If you're looking for something to put on your stovetop, we love a grill pan. This nonstick version from Calphalon is easy to use and nonstick, so it's even easier to clean.
something to healthify your fried food
If you don't have an air fryer, chances are you have at least one friend who won't stop talking to you about theirs and explaining to you, in great detail, the reasons you need one every time you see them. While this can be annoying, your friend isn't wrong. Air fryers are machines with some sort of magical motor, or in the case of the version from PowerXL, "a whirlwind vortex of superheated hot air" that crisps your food to perfection. If that doesn't convince you, know you can also use this machine to bake, roast, dehydrate, and more. The Emeril Lagasse model is another option that has multiple functions. For something splurgier with oven functionality, the Breville® Smart Oven® is great. Now you'll be able to talk to that friend about something other than their air fryer… like your air fryer. Air fryers have that kind of effect on people.
Blenders are definitely for smoothies, but they're also for so much more than smoothies. We love using them to make pureed soups, sauces, dressings, and if we're really feeling adventurous, nut butters. You can choose a traditional blender with a pitcher or a hand blender that you can use in your own pot, pitcher, or bowl if you're short on space or just don't want to wash extra dishes.
Soda? Healthy? Whaaaa? Yes, you can make your own healthy sodas and sparkling water. SodaStream® is our go-to. We like to make sparkling water and drink it plain. We'll also add fresh fruits or veggies like grapefruit, lemon, or cucumber, herbs like mint, or fresh juices for something a little more exciting.
One of the best and easiest things you can do to improve your health is hydrate. It's so simple, but adding a few extra glasses of water to your daily intake can do wonders for how you feel. Leave a pitcher that filters tap water for you in your fridge and get a reusable bottle that you can take with you when you're on the go! Your body and Mother Nature will thank you.
the right pots, pans & extras
Make sure you have pots and pans you like. Cooking is way better when you have equipment you actually want to use, and that works well with the things you want to make. A good nonstick fry pan, saucepans in a few sizes, different utensils, and a sheet pan are absolute musts when it comes to healthy cooking. We love Rachael Ray cookware for the quality and price. Okay, and the colors. We love the colors, too.