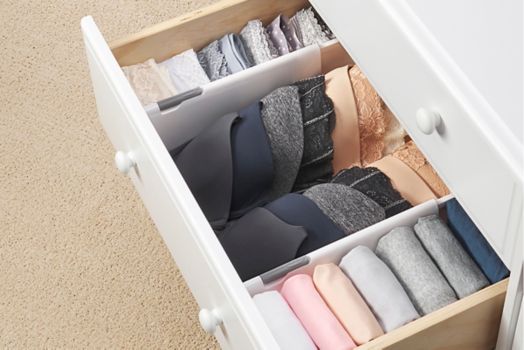 6 Quick Ways to Organize Dresser Drawers
It's a lot easier to get dressed in the morning if you're not digging through an overcrowded drawer full of wrinkled clothes. Here's how to restore order in a flash.
The best and most satisfying organizing projects are the ones you can get done quickly and see visible results. Taming the tangled mess in your dresser drawers is exactly this kind of job: It's quick and easy, offers highly satisfying results, and might even help you rediscover some long-lost outfits. Use the BB&B Method—Banish, Bundle, and Be Tidy—and these six simple steps to get jam-packed dresser drawers in shape.
Banish unwanted items. Your first step is to get rid of anything that you don't wear or that doesn't fit. Take everything out of the dresser and sort through your clothes piece by piece, making three piles: One to keep, one to donate (good-quality items you no longer want), and one to purge (single socks, we're looking at you!). Be brutal. If you haven't worn it in over a year, if it has a hole, if it's not likely to fit again this decade… buh-bye.
Bundle like with like. Now you want to group your clothing by type. Put all the bras together, underwear in another pile, followed by tank tops, t-shirts, sweaters, leggings, etc. Fold items in uniform sizes so they'll stack neatly. Consider rolling some tees and camis—it saves space and keeps them wrinkle free.
Make a plan. Next, decide where each group will go. Small and light items like underwear, socks, jewelry, and accessories should go in a shallow drawer, typically at the top of the dresser; bulky items like sweaters and jeans should go in a deeper drawer, usually at the bottom.
Be tidy. Before you put your clothes back in the dresser, prep the drawers to make it easier to keep them neat and orderly. Use drawer dividers to keep separate different types of clothing, or to help lightweight fabrics (like t-shirts) stay in place. And don't be tempted to overfill your drawers; when your organizing project is finished, the drawers should glide smoothly.
The OXO Good Grips® Expandable Dresser Drawer Divider adjusts to drawers in a range of sizes. Look for dividers with nonslip ends to keep them firmly in place.
Try a drawer insert system such as the Honeycomb Drawer Organizer. Easy to fit to most drawers, it has eight snap-together pieces to create 32 compartments that are ideal for underwear, accessories, and more.
Divided boxes are another handy helper. These iDesign® Aldo Fabric Dresser Drawer Organizers are perfect for drawers or closet shelves. They fold for easy storage when not in use.
Keep small items contained. Small bins and containers help keep irregularly shaped items like scarves, socks, tights, and shapewear corralled inside your drawers. Stacking jewelry trays display your favorite accessories so they're accessible and tangle-free.
Professional organizers often turn to simple storage containers made from clear plastic or metal to create custom drawer-organizing systems. "Don't be afraid to repurpose kitchen or desk organizers for your dresser," says NYC-based organizing expert Lisa Zaslow. If they fit your needs, they're just right.
ORG Powder-Coated Mesh Drawer Organizers are a neutral and versatile option that hold a wide range of dresser essentials.
Bamboo Drawer Organizers have a natural wood look and come in a range of sizes, so you can choose the perfect combination for your drawers and your storage needs.
Storing your favorite jewelry inside a drawer can help keep the top of your dresser neat and clutter free. Look for space-maximizing stacking organizer trays like the Ampersand® Stackable Jewelry Trays in Gold.
Make it pretty. Opening a newly organized dresser drawer is supremely satisfying, especially if you've invested in organizing accessories that appeal to your sense of style. One last finishing touch: Lining the drawers with pretty scented paper before you load them back up will create an eye-catching, sweet-smelling backdrop for all your perfectly folded and ordered clothes.
With a classic scrolling pattern and odor-fighting scent, Fresh Linen drawer liners will ensure that your organized drawers smell as good as they look.
Con-Tact® Brand 8-Pack Lavender Floral Scented Drawer Liners wipe clean easily and can be trimmed to fit any drawer.
The Real Simple 20-Inch x 8-Foot Quatrefoil Non-Adhesive Shelf and Drawer Liner in Grey is machine washable, and perfect for both drawers and shelves.