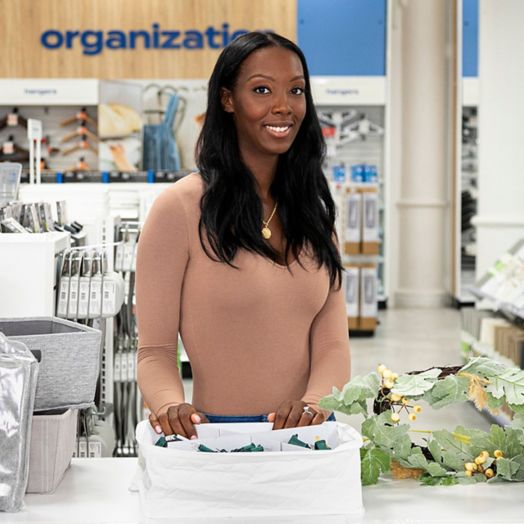 6 super-useful packing tips, just in time for spring break
all-things-organization expert Eryn Donaldson shares her packing secrets that will save you space, time, and money
"I love packing," said no one ever. But someone who gets it right every time is Eryn Donaldson, our storage and home org expert. Here, she offers six tips that might just change the way you pack.
1. first things first, make a list
Before you start packing, make a list of all the items you want to bring. I always do this because then I only have to spend a few minutes actually packing and I don't forget a thing!
These will help save space and keep you organized. I personally like to organize my cubes by type – pants in one, shirts in another, and dresses in another. Or you can pack each cube with full outfits.
3. try a hanging organizer
This is a quick and efficient packing and unpacking trick. Just place your folded clothing in the hanging organizer, gently collapse the organizer, and pack the whole thing in your bag. Once you get to your hotel, all you have to do is hang the organizer in the closet!
4. pack an extra bag for dirty laundry
It's smart to keep dirty and clean clothes separate, plus it makes it easy to toss the dirties right in the laundry when you get home. Try stashing a couple XL Ziploc bags in your luggage – these are made for travel and shrink down without a vacuum. A nylon laundry bag works well, too.
5. store jewelry in pill cases
Pill boxes are a great way to keep track of small items like rings and earrings – they'll stay organized and safe. If you're worried about your necklaces tangling, try threading them through drinking straws.
6. bring along a nifty luggage scale
If you're taking a long trip, or are just someone who likes to pack a lot, there's a good chance your luggage will be too heavy. To avoid costly overweight charges, a travel scale is a must. This one weighs only a-quarter pound, and measures luggage weight up to 100 pounds. All you have to do is loop the strap through your luggage handle and lift to weigh!