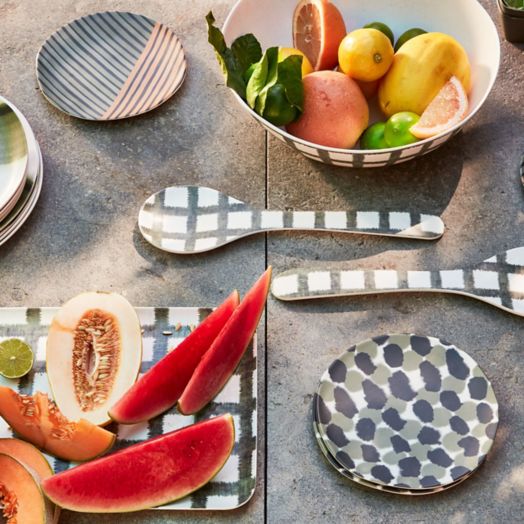 6 ways to elevate your outdoor decor for less than $100
make your alfresco space more stylish, fun, and functional with these easy ideas
Maybe this is the year you want to start having more people over for outdoor hangouts, or maybe you simply want a space that makes you feel happy, calm, and proud. Whatever the reason, we're here for it with an assortment of alfresco upgrades that are just as easy as they are affordable.
create a dreamy lounge area with poufs and throw pillows
You don't need a sofa, coffee table, or even chairs to comfortably spend time outdoors. Try designing a fun and casual spot for a solo or group hang – with just a few weather-friendly poufs and throw pillows! A sturdy pouf or ottoman works great as a seat or side table, while a pileup of large pillows in cheerful colors and patterns feels relaxed and fun. Extra comfy points for an outdoor rug (see below).
add style to your space with a weather-friendly rug
You know how a throw rug can pull your whole living room together? Same goes for your outdoor space. Whether you have an expansive deck, a small concrete area, or even a patch of grass, a great-looking, inexpensive rug will make your space feel more stylish, comfortable, and purposeful. Place one under your table and chairs, or skip the furniture and simply layer a few small rugs to create a cool alfresco lounge area. All you need to add are a few throw pillows – and a few friends!
add instant ambiance with lanterns
What's your style? We bet there's a lantern for it. Whether traditional, farmhouse modern, rustic, sleek, eclectic, or utilitarian, an outdoor lantern brings beautiful light to tables, walkways, and, here's an idea: a picnic under the stars. Powered by batteries or solar energy, outdoor lanterns are practical, price-friendly, and withstand all weather elements. Place one in the center of a patio table for an always-lovely look, or hang a few small ones from tree branches for extra ambiance.
bring a magical glow with string lights
There's something so special about walking out into a yard draped in string lights. It makes everything feel like an easy, impromptu party – even on, say, a Tuesday night when the sink's full of dishes and the dog still needs to be walked! Try hanging string lights from tree to tree or along a fence, or start small and wrap a strand around a few large plants. To make it super easy, go for a solar-powered style and you won't even need an outlet.
use plants to bring beauty and privacy to your space
Is there such a thing as too many plants? We don't think so! Not only do they breathe life (literally) into an alfresco area, but tall plants are a great way to add privacy. And there are so many amazingly affordable ways to display them, from earthy terracotta pots to chic ceramic styles, from planters that hang to ones that sit on wooden stands. Plant a cactus in a large urn and watch it soar, or go for groupings of palm varieties that are super simple to care for. If a plant with zero maintenance is more your style, try a faux version – we promise you'll have it forever!
chic up your table decor with melamine
We are big fans of melamine for so many reasons: It looks like expensive ceramic, but it will never break and it's safe in dishwashers and microwaves. Plus, it comes in a plethora of lovely styles, from bright and cheerful to muted and modern. Try a matching set for an alfresco dinner party under glowing string lights, or mix up different colors and patterns for stylish daily use.