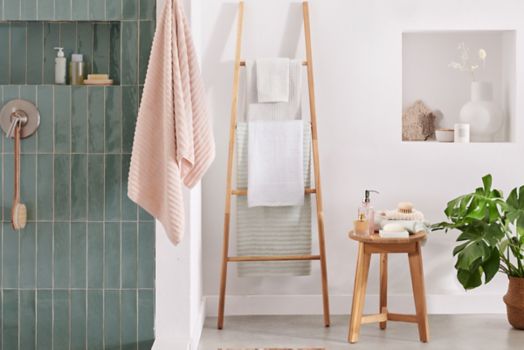 bring the spa home with Haven™️
5 professional designer tips for turning your bath into a sanctuary
When it comes to relaxation and pampering, nothing beats a trip to the spa. But your schedule may not permit that on the regular. Luckily, it's pretty easy to set the stage for a soothing spa experience at home. Try these tips from our partners at Decorist, an online interior design service, then lock the door and let the self-care begin.
Create a spa feeling at home by introducing natural elements and luxurious materials. Decorist designer Megan Wright suggests adding wooden pieces such as an acacia bathmat, stool, and ladder rack to display a set of beautiful towels. Complete your spa experience by including a succulent or an air-purifying plant.
take it to the next level with a caddy
If you're trying to relax in your tub without a bath caddy, you're missing out on some serious spa vibes. Decorist designer Aurielle Jones is a big fan of this acacia wood bath tray with a handy built-in groove that holds an iPad or book. The design works in any bathroom and can really update a space when paired with a waffle-textured shower curtain. Display your soaps and oils—and don't forget a candle or two!
Decorist designer Briana Nix suggests warming up your bathroom floors by layering in a textured bath rug that feels like a massage on your feet. Or an acacia mat right outside the tub for a zen look. Or opt for a plush bath rug, also from Haven, for some added sophistication. The collection's soft, muted color palette and organic vibes help bring a fresh, spa-like look to your bathroom.
Decorist designer Maria DeLuca loves the Scandinavian lines and matte finish of these new Daylesford accessories from Haven to up the cool factor in your bathroom. The canisters are perfect to hold anything, like Q-tips, cotton balls, or bath salts. And the flat tray is a stylish spot for a soap bar or hand lotion dispenser.
try towels as a decorative element
For Decorist designer Kara Thomas, an easy way to refresh your bathroom is to start with new towels like these super-soft organic cotton ones from Haven. To instantly elevate the look of your bathroom, roll them in a woven basket or fold them over an acacia ladder. She suggests mixing and matching colors to achieve a more curated look.
have a quick design question?
Professionals at our Decorist Design Bar will send you personalized advice, product recos, and more—and it's free!