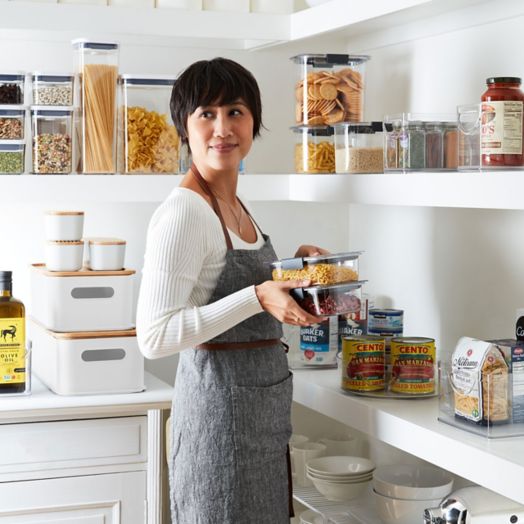 kitchen storage & organization tips
Getting everything you need to organize a kitchen doesn't have to be confusing. How do you organize a kitchen? All you need to do is take things one step at a time. Follow our checklist to figure out exactly how to organize your kitchen.
Some helpful types of kitchen cabinet organizers include the following:
1. Shelf and cabinet organizers like metal bins or mesh expandable shelves work great for everything from storing dry goods to sorting out pot lids. Clear stackable bins are another great choice because they let you see what's inside at a glance.
2. Lazy Susan cabinet organizers are ideal for corner cabinet organizers. This style of organizer spins around, so you can get items from the back without having to stretch.
3. Pull-out under-cabinet organizers help increase the storage space inside your cabinets while still being easy to access. Customizable options are a breeze to install.
Over-the-cabinet organizers are a great way to fit more storage space in compact kitchens. Vertical kitchen cupboard organizers turn the vertical space over your cabinets into handy storage.
Shelf liners help keep your cabinets looking great longer. They prevent your cabinets from getting dampened or stained by things like oil bottles.
---
pro tip:
Sit down and plan your cabinet layout before you purchase kitchen cabinet organizers. Make sure the things you use the most are at an easily accessible height.
---
To keep things from getting lost, use a kitchen drawer organizer to make sure everything has its own place. Bins are great for large things like measuring cups or whisks while a kitchen utensil organizer helps sort out smaller tools. Every kitchen is different, so you may want customizable modular options.
---
pro tip:
If you have deeper drawers, two-tier organizers give you extra storage space.
---
The trick to kitchen counter organization is using bins, baskets, and holders to reduce visual clutter.
Utensil holders are a great way to keep your cooking spoons and spatulas by the stove.
Paper towel holders can be stylish décor or strictly organizational. You can even install them under the cabinet or sink to maximize counter space.
Napkin holders make sure your napkins are easily accessible but still tidy.
Fruit baskets and hangers help keep your fruit fresh by increasing air circulation.
Spoon rests ensure your counters are clean while you are cooking.
---
pro tip:
Pick your counter organization in colors and styles that match your kitchen décor. Since they're highly visible, they make a stylish accent!
---
Some must-have sink organizers include:
Dish racks speed up drying time by encouraging airflow and drainage around your dishes.
Over-the-sink dish racks help keep your counters dry and fold away easily for convenient storage.
Drying mats are a great way of drying dishes because they maximize space. You can fold or roll them up when not in use.
Sink mats help keep your sink from being damaged if you accidentally drop something heavy or sharp in the sink.
Soap dispensers save on space while being a cute accent piece. For extra convenience, consider one with a touch-free sensor.
Sponge holders and sink caddies promote air circulation, ensuring your sponge remains clean for as long as possible.
---
pro tip:
Don't forget about under-sink organizers as well. Hanging shelves and bins for under the sink maximize storage space.
---
refrigerator organization
Keeping your fridge organized makes it easy to find exactly what you need. This can reduce your power bills and keep you from accidentally buying too much as well. Some helpful products for fridge organization include:
---
pro tip:
Sort food by type with color-coded food refrigerator organization bins.
---
Don't overlook food storage when working on how to organize your kitchen. Food storage containers make it easy to pack healthy lunches for the family and keep leftovers good longer. Dry food containers, for instance, are airtight, so they keep ingredients fresh and safe from pests.
There are plenty of different sizes and shapes of food storage containers available, depending on what you need and the amount of space you have available to fill. Stackable containers are a great option because they can help you free up cabinet space.
Is glass or plastic better for food storage? It depends on your needs. BPA-free plastic food storage containers are affordable and lightweight. Glass food storage containers are sturdy and let you see what is inside.
---
pro tip:
Consider what type of food you will be storing before purchasing food storage containers. The best food storage containers for dry food are airtight. The best wet food storage needs to be leakproof.
---