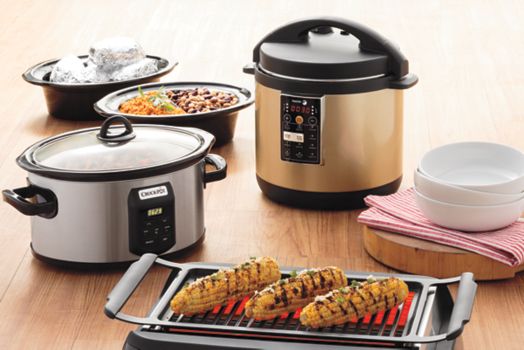 buying guide tips: slow cooker, pressure cooker, and multi cookers
If you're like most busy people, you don't always have all the time you'd like to make nutritious meals every day. So, how can you make home cooking faster and easier? One of the best ways is by having appliances that streamline family meal creation. Pressure cookers, slow cookers, and multicookers are some of your top options. They help you make delicious meals when it's your turn to cook, even after an especially difficult day.
how does a pressure cooker work?
At its most basic, a pressure cooker is a metal cooking pot. It has a tightly sealed lid that prevents steam from escaping. The trapped steam builds up as you cook, creating a high-pressure environment that allows food to cook faster.
pressure cooker type: stovetop or electric pressure cooker?
The size of your kitchen, the amount of available counterspace, and your cooking style are all factors in your ultimate choice of pressure cooker. An electric pressure cooker sits on your counter and plugs into an outlet. It has its own heat settings. A stovetop pressure cooker, on the other hand, draws its heat from a burner, so you can adjust the heat source quickly and easily as needed.
An electric pressure cooker:
Is ideal if you have enough counter space
Frees up your stovetop for side dishes
A stovetop pressure cooker:
Requires no counterspace
Takes up space on your stovetop
benefits of a pressure cooker
Fast: Pressure cookers cut meal prep time by as much as 70%.
Healthy: Less time in the pot limits nutrient and flavor loss, so pressure cooking produces more nutritious and delicious meals.
Easy Cleanup: With pressure cooking, you just have a single pot to clean. Pressure cookers have sealed lids that prevent splashes, boiling over, and spillage, keeping your surfaces pristine.
Efficient: Quicker cooking times and fewer pots to heat add up to energy savings.
how to use a pressure cooker
When you first use your pressure cooker, follow the manufacturer's step-by-step directions. In general, you will:
Put your ingredients, including liquid, in the pot.
Close the lid.
Select a pressure setting/cooking program.
Set the timer, if necessary.
Allow pressure to build up in the pot.
Let your food cook.
Release the pressure.
Serve your meal.
The best pressure cooker will have an easily visible, integral pressure gauge, so you can keep an eye on what's happening beneath the lid. If needed, you can adjust the cooker's temperature settings while the food heats.
what can i cook in a pressure cooker?
This appliance is far more versatile than a traditional canning pressure cooker. You can make all sorts of recipes with meat, fish, and chicken in record time. Rice takes 30 minutes on the stovetop but only half the time in your pressure cooker, and the results are always perfect. Traditional vegetable and grain dishes come out quicker too. A pressure cooker even cooks scrumptious desserts like cheesecake.
Plenty of pressure cooker recipes are available online for dishes like:
Stews
Curries
Mashed potatoes
Baked beans
Hearty soups
Rice
Stuffing
Risotto
Lentil chili
Quinoa
Choose from top brands like Ninja® pressure cookers, Instant Pot® pressure cookers, and more to find the perfect option for you and all your cooking needs.
Pro Tip: Be careful opening your pressure cooker after the food is done. A lot of steam will escape when you lift the lid, so use potholders to avoid coming in contact with hot water.
what is a slow cooker?
A slow cooker, also commonly called a Crock-Pot, is a standalone electric appliance that cooks food at a low heat. It has a tight-fitting lid to keep the contents juicy as they gradually transform into a fully cooked meal. The best slow cookers offer two or more temperature settings ranging from low, which is around 190 degrees Fahrenheit, to high at about 450 degrees Fahrenheit.
Nothing gives you more peace of mind during your workday than knowing your dinner will be ready to eat when you walk in the door. A slow cooker can help you do just that. Simply load it up in the morning before you leave, set it, and when you return later in the day, a heavenly aroma and fully cooked meal will greet you.
Whether you are braising a whole chicken or cooking up a hearty noodle dish, a slow cooker is an essential time-saver. Your food cooks slowly, which produces tender and flavorful fare, and it all happens in the background while you go about your busy day. You can even prepare yummy desserts in advance and have them ready when the time is right. Simply follow the slow cooker recipes that come with your appliance.
We carry different sizes of this useful appliance, such as a 10-quart slow cooker and a 12-quart slow cooker. Our triple slow cooker offers versatile settings for family-sized spreads. You'll also find several respected brands among our slow cooker options. They include Cuisinart® slow cookers, KitchenAid® slow cookers, and All-Clad slow cookers.
slow cooker features to consider:
Size and shape of cooking pot
Lid
Ease of cleanup
Programmability
Temperature probe
Sear function
Warmer
Most slow cookers have removable pots. Be sure to select a cooker with a pot that's the right size for family meals. You can also choose a cooker with an oval or round pot depending on your preference.
When you consider the lid of a slow cooker, keep in mind how you will use it. A translucent lid lets you check on the food without opening it up, preserving moisture and temperature. If you will typically serve right from the pot, choose a hinged lid for ease of opening and closing. If you attend lots of potlucks, you'll need a locking lid to prevent spills in transit.
If you want to keep cleanup quick and easy, be sure to select a slow cooker with a removeable, dishwasher-safe pot and lid. Check that it will fit in your dishwasher.
Select a programmable slow cooker to streamline your prep time even further. This is a great feature when you make favorite recipes often.
Some slow cookers come with a temperature probe you can use to test for doneness. It helps you ensure a perfectly cooked meal.
A sear function is great for sealing in juices before you begin slow cooking.
A warmer is essential when family members will be eating at different times or when you're serving your food buffet-style at a potluck.
Pro Tip: Use the sear function to brown meats and roast vegetables to retain flavor and nutrients.
what is a multicooker?
A multicooker like the Instant Pot is an electric appliance you can use to speed up cooking times. You can find a multicooker with a slow cooker function too. Unlike a pressure cooker, this type of appliance not only braises and boils, but it also fries, bakes, and browns. Cooking times will vary based on the selected mode, but using a multicooker is still usually faster than traditional cooking appliances.
Some of the things a multicooker does better than traditional methods include:
Slow cooking
Roasting
Pressure cooking
Sous vide
Air frying
Sauteing
Baking
Simmering
For example, the Hamilton Beach® multicooker converts easily from air fryer multicooker mode to slow cooker mode with a touch of the digital control pad. The Ninja® multicooker features both air fryer and pressure cooker modes. The best multicooker accommodates your varied schedule with versatile cooking options.
Plenty of multicooker recipes are out there, so it's no problem to serve a varied menu throughout of the week. From low-calorie, air-fried chicken to a tender, slow-braised leg of lamb, anything is possible with a multicooker on your kitchen counter.
the benefits of using a multicooker
When you purchase the right multicooker, you will enjoy benefits such as:
Space savings
All-in-one convenience
Healthier cooking
Quick meal preparation
Pro Tip: Be sure to cut pieces of food into a uniform size to get an evenly cooked result.
what's the right cooker for you?
Before selecting a cooker, it's important to consider the differences between a pressure cooker vs. slow cooker vs. multicooker:
Saves energy with one-pot meals and quicker cooking Yields healthier and tastier meals Offers easy one-pot cleanup Uses a variety of cooking methods for all types of foods
| pressure cooker | slow cooker | multicooker |
| --- | --- | --- |
| Pressure cooker prepares food very quickly at a high heat | Slow cooker prepares food very slowly at a low heat | Multicooker prepares food in multiple ways, such as slow cooking, pressure cooking, or air frying |
| Saves energy with faster cooking | Saves energy with one-pot meals | Saves energy with one-pot meals and quicker cooking |
| Delivers healthier and tastier meals | Makes tastier, more tender meats and vegetables | Yields healthier and tastier meals |
| Offers easy one-pot cleanup | Offers easy one-pot cleanup | Offers easy one-pot cleanup |
| Pressure-cooks main dishes, side dishes, and desserts | Slow-cooks main dishes, side dishes, and desserts | Uses a variety of cooking methods for all types of foods |
With the right appliances on hand, mealtime is never a chore. You can feel free to enjoy the food you prepared with the help of your slow cooker or pressure cooker at the family dinner table. Browse our wide selection of cooking appliances to find the ones that are right for you.