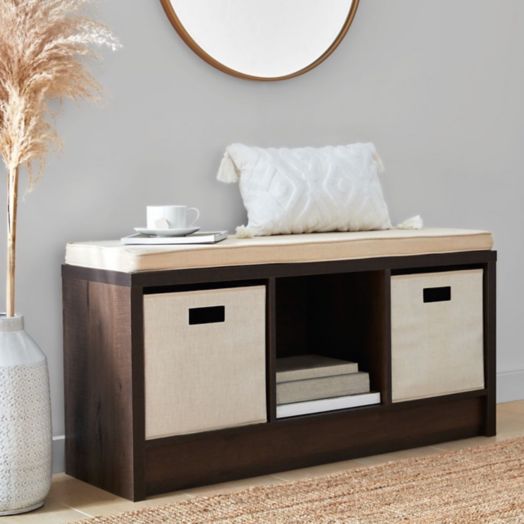 room storage & organization essentials
We often don't realize how much we have until it creates clutter, and then we need to take the time to put it away. Sometimes, when we put it away, it's not in a very organized manner. So, how can you stay organized while creating functional space throughout your home? Below are a few storage solutions to help keep your home neat and orderly.
Under-the-bed storage can be in the form of plastic storage bins, storage baskets, or other storage totes. The space under your bed often isn't occupied by anything else, making it a great storage area that can stay out of sight.
Over-the-door organizers make it easy to utilize your bedroom door's vertical surface. Maximize storage space using this underutilized area.
Hampers and laundry sorters simplify laundry day as you can presort as you go before you even need to start getting things into the washer. Keep the dirty laundry from piling up on the floor by choosing from many different hamper options.
Dresser drawer organizers are a great way to keep your clothes from becoming a jumbled mess. A vertical folding method takes up much less space, and you can see what clothes you have available.
Cube storage units are excellent for keeping similar items organized together and clearing up floor clutter. Cube storage bins can be used on their own or placed on existing shelves.
---
Pro Tip: Hanging shoe organizers are good for hanging more than shoes. Keep things like belts, scarves, jewelry, and hair accessories in a designated area while helping clear up space in your closet or dresser drawers.
---
Cube storage bins make playroom organization a snap. Keep the system simple by ensuring everything has its place, making it easier for kids to find things and clear up floor clutter when playtime is over.
Clear bins are another good idea for playroom toy storage. Kids have no problem seeing what's inside. Plus, they're less likely to clash with your décor.
Bookshelves keep your books organized and safe, but they're also a great multipurpose storage solution. Use whatever room is left, as well as the top of the bookshelf, for toys and other storage.
Shelving is great for putting things away but keeping things in view simultaneously. Display a favorite toy when it's not in use or highlight finished projects like your little one's artwork or that LEGO build that took weeks to complete.
Hooks make an ideal add-on to other storage setups and take up little wall space while putting the area to good use. Keep dress-up clothes, doll accessories, and electronic cords from becoming a tangled mess on the floor.
---
Pro Tip: Playroom organization systems should be easy for kids to follow. Try bins of different colors for different types of toys or label containers with pictures so even the younger children can immediately find what they're looking for and put it away when they're done.
---
Cube storage units aren't just for kids. A cube storage system makes it easy to find what you're looking for while keeping the clutter from piling up on your valuable desk space.
Top-of-desk organization solutions might include letter trays, file boxes, and desk organizers perfect for keeping your most-used items, like pens and notepads, in one place.
Drawer organizers will prevent you from wasting time shuffling through your drawers for small office supplies such as paper clips, staples, and various writing utensils. Use modular containers to keep similar items grouped together and visible.
Accessories for office storage include wall organizers, whiteboards, and chalkboard wallpaper. Get creative while making sure you don't forget important notes and dates.
---
Pro Tip: Desk drawers don't have to be boring. Lay down a decorative liner, use colorful organizers that match your décor, or select containers that reflect your unique tastes.
---
Shelving creates a place for laundry accessories such as detergent, dryer sheets, stain remover, and other items. Increase storage space while keeping cleaning chemicals out of children's reach.
Hampers and sorters right in the laundry room make the job way easier. No more carrying everyone else's dirty clothes all the way to the laundry room. Your dirty laundry will be kept out of sight while being sorted before it's even time to wash.
Garment drying racks can be used for clothing and bedding that doesn't go in the dryer or as a place to hang clothes until they're taken to closets.
Canisters are perfect if you don't wish to have bulky boxes of laundry detergent or fabric softener taking up space in your laundry room. Canisters are much more aesthetically pleasing and allow you to easily view the cleaning supplies you have.
---
Pro Tip: To make this functional space even more aesthetically pleasing, consider using bins to combine cleaning supplies. Not only will this help keep these items organized, but they'll also be handy to carry around from one room to the other.
---
Garage wall organizers greatly reduce floor clutter and maximize storage space. Not only does this apply to tools but also bicycles and other sports and physical activity accessories.
Shelving units and organizers allow you to use the full height of your garage. They're also easy to move and customize so things are kept exactly where you want them and easy to find when you need them.
Storage containers and crates combine similar items in one location. When containers and crates are properly labeled on top of that, you'll never lose anything again.
Hooks are great for hanging things up and keeping them out of the way. Stop tripping over bikes, ladders, and other bulky items taking up valuable floor space.
Trunk organizers are simple to move from vehicle to vehicle when you need to. Separate your trunk into smaller zones that will keep items secure, viewable, and easily accessible when you need them.
Car bars turn the backseat of your car into a closet. Hanging your clothes on a car bar means they won't get wrinkled during your drive.
---
Pro Tip: Designate certain areas in your garage for similar items. Reserve your tool bench for tools, keep sports equipment off the floor by hanging it on walls or the ceiling, and group storage containers full of holiday decorations together on shelves.
---