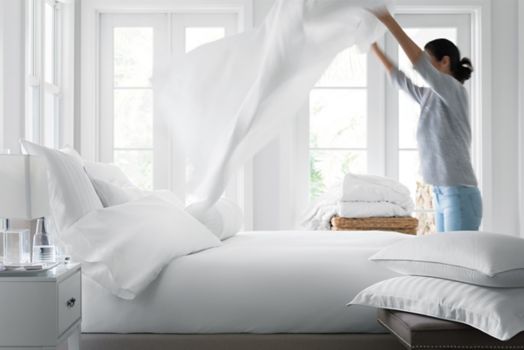 Since we spend six to eight hours per night asleep in our beds, it's important to consider which bed sheets are right for us. From material and thread count to size and features, selecting your ideal bed sheet or sheet set can be somewhat complicated, but it's nothing you should lose sleep about. All you have to do is ask yourself a few questions to find what the best bed sheets are for you.
how does your ideal sheet feel?
So, what are the best bed sheets? There will be noticeable differences in how each bed sheet looks and feels, and this is mostly due to the materials and weaves used to create them.
you like sheets that feel....
| | Material | Weave |
| --- | --- | --- |
| Cool & Crisp | Cotton, Cotton/Poly blends | Percale |
| Silky & Smooth | Cotton, Modal, Lyocell®, Viscose made from Bamboo | Sateen |
| Soft & Cozy | Jersey, Microfiber | Brushed Percale |
| Warm & Cozy | Flannel | Knit, Twill |
materials
cotton
Some cotton fabric varieties include organic cotton and long-staple cottons like Supima®, Pima®, and Egyptian. Cotton sheets are popular because cotton is one of the softest and most breathable materials as well as a very durable fabric. Depending on the weave type (Percale or Sateen) cotton sheets will feel either cool & crisp, or silky & smooth.
blends
The most common fabric blend in sheets is the polyester/cotton blend. In this instance, blending natural and synthetic material makes the sheets easier to care for. While blends are more durable than other synthetic fibers, they wear out a lot faster than cotton sheets. If you like the feeling of crisp sheets, choose a cotton and polyester blend.
flannel
If you're looking for sheets that are comfortable and lightweight but will keep you warm, you might want flannel. Flannel sheets make for ideal sheets in the cold months as the soft fabric feels light yet clings comfortably.
lyocell®
If you don't pay attention to the materials used in sheets, you aren't likely to have heard about Lyocell®. Lyocell® is a form of rayon made from wood pulp that is cool to the touch and feels smooth.
modal
Modal is another type of fabric that's gaining in popularity. This is a fiber made from beech tree pulp. Modal is resistant to pilling and shrinking, which means it holds up well when washed. It also retains its colors, and it stays soft and silky. One thing to keep in mind with Modal is that it can't take the high heat of washers and dryers. It's best to wash and dry on low temperatures.
synthetic
Synthetic is an umbrella term to include any human-made material, such as polyester. Polyester is one of the most common synthetic materials used in sheets. Polyester sheets are resistant to wrinkles, but they aren't as breathable or as soft as cotton. Polyester is more likely to develop fabric nubs as well.
As its name suggests, it's made from bamboo stalks. They have a natural fiber base, and there's a manufacturing process that makes them soft and smooth. They are breathable as they're designed to have holes. Unfortunately, these sheets wrinkle very easily and aren't that durable.
weaves
The weave also has an impact on how sheets feel. A weave refers to how the material used in the product interlaces with the fabric. The threads going lengthwise are the warps, and the threads going crosswise are the wefts.
percale
Percale sheets are woven with one thread going under and one thread going over. Sheets with this weave are very strong and last a long time. If the softness isn't to your liking, you may have to wash it a few times to soften the sheet.
sateen
Not to be confused with satin sheets, this weave pattern puts most of the threads on the surface. However, like satin, the sateen weave is exceptionally soft, but it's somewhat less durable than the percale weave. Sateen weave gives the sheet a smooth feel with a subtle sheen. Due to its unique weaving pattern, it produces a satiny and sumptuous finish.
jacquard
This is an extremely complex pattern, and sheets with this weave are created with a special loom. It also has a variety of textures, and since it's woven, you'll be able to feel the pattern.
are you looking for fabric with less of an environmental impact?
Organic cotton sheets have less of an environmental impact as it's grown without pesticides. Cotton that isn't grown organically uses chemical defoliants to aid in harvesting.
Thankfully, there are companies out there, such as OEKO-TEX®, that enable consumers and companies alike to make responsible decisions. They help make sustainability easy. OEKO-TEX® has several set standards, such as their MADE IN GREEN label. This label lets consumers know what materials were tested for harmful substances.
what thread count do you want?
While thread count is only one part of the equation, one way to evaluate the sheets you're considering is to look at this number. The thread count counts the number of threads per square inch of fabric. Both horizontal and vertical threads are counted. So, what is a good thread count for sheets? A high thread count typically means that the sheets are more durable and are more likely to soften over time.
Other factors to consider are the type of fiber, how it's finished, and the yarn's size. Some fabrics, such as Jersey or "T-sheets," are knitted and won't have a thread count as they aren't woven.
Mattress depth measures the thickness of the mattress from top to bottom. You need to know your mattress's depth as sheet manufacturers use it to determine the pocket depth that the fitted bottom sheet needs. If you're not sure what size your mattress is, measure it and use the table below. If you have a mattress pad or topper, don't forget to include that as part of your mattress depth.
mattress depth guide
what is your mattress size?
Of course, the size of your mattress factors in to what sheets you need, whether it's Twin sheets, Twin XL sheets, Full sheets, Queen sheets, King sheets, or California King sheets.
Mattress Size