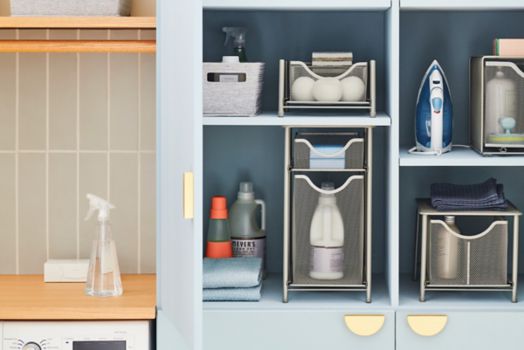 storage hacks to declutter your home (and mind)
home org expert Eryn Donaldson shares her top tips
Keeping spaces organized can make all the difference in maintaining a happy home and clear mind. We asked our storage and organization expert Eryn Donaldson to share her best ideas for conquering clutter.
Getting organized can be overwhelming. Take it one step at a time and start with something easy, like the junk drawer. Give it an upgrade with small metal drawers to create a tidy space for miscellaneous items.
Messes are often created because we don't know where a product should go, or don't have a designated area to put it. Enter storage bins. Stash toys, stow towels, or stack clothes inside these bins to declutter your rooms in a flash. These small additions can make a big difference in keeping clutter and stress at bay.
Multifunctional items help maximize your space and provide practical solutions to clutter. Think beyond typical uses for products. For example, hanging closet organizers can be used beyond the bedroom in other areas like hall closets, pantries, garages, and more.
Sleek new products make it easier than ever to create space-saving storage options while eliminating the need for excess furniture. Stylish storage carts can be used as nightstands or side tables, bathroom cabinets, or nursery dressers. When you're able to keep essentials within arm's reach, you'll make your life a lot easier.
A 3-tier storage cart on wheels is a great way to bring your things from one room to the next. Simply roll it anywhere and give yourself flexibility with open shelving options. Try this as an art caddy, a bookshelf, or a bath organizer. Carts like these help you not only get organized but stay organized.
Eryn is the CEO and founder of The Model Home, a home organization company dedicated to helping you create and maintain organized spaces in your home. As a former nationally ranked athlete and fitness model, she was constantly traveling—typically last minute—so staying organized was an absolute must! Eryn took this love for organizing and beautifying spaces and developed her own system, which she now brings to her hundreds of clients across the country. Her clientele includes many celebrities and professional athletes, and her makeovers are regularly featured in People Magazine, among other lifestyle media.