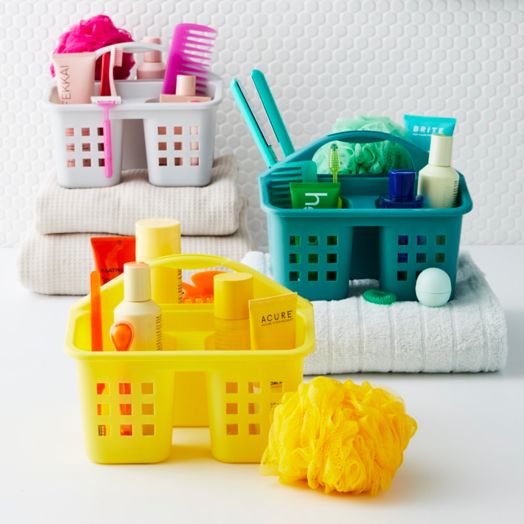 5 must have college bathroom essentials
When packing to head off to college, thoughts eventually head toward the college bathroom. You will inevitably ask, "What do I need for a college bathroom?" Whether you're living in a dorm with a larger communal bathroom, or just sharing an en suite bathroom with roommates, having the right things will make or break how you feel about taking care of yourself. Consider these five must-have college and dorm bathroom essentials while planning and packing all of your supplies and necessities.
1. shower curtains & bath accessories
Some of the most often overlooked college bathroom essentials are the
shower curtain and other bath accessories
. Keeping your privacy is important, not to mention reducing the mess of water getting everywhere. Having a separate liner helps improve privacy while also making the shower easier to clean. While you're thinking about a shower curtain, don't forget about some decorative curtain hooks and a bath rug.
Beyond the curtain, your college bathroom essentials list should also include a wastebasket, soap dish, toothbrush holder, a cleaning squeegee, and a showerhead you'll enjoy. These take your basic college bathroom from barely functional to a place where you leave feeling like you're prepared to tackle the day.
2. shower totes & bath storage
What kind of shower caddy is best for college? Most students find having a
dorm bathroom caddy
makes preparing for the day easy and relaxing. You have a variety of design options to consider, including mesh and stylish canvas, plastic, and wire.
What works best for you depends on the shower facilities available. If you're not sure what that looks like, many students appreciate a simple plastic tote with compartments for their various bathroom essentials.
Don't forget about some storage for when you're not in the shower. Whether you need drawers, shelves, or bins, this helps keep all of your college bathroom necessities organized so that you can easily find what you need when you need it.
There's nothing like stepping out of a shower and wrapping up in a soft and absorbent
bath towel
.
Typical options include cotton, polyester, and nylon, or a combination of those. Cotton towels tend to be more absorbent and softer. However, polyester blended towels dry more quickly, which reduces the risk of allergens.
While shopping for towels, consider the other bathroom linens you'll need. Be sure to have hand towels, washcloths, and a shower mat on your list.
4. shower robes & slippers
What will you wear on the way to and from your college dorm bathroom? Of course, there's the need for a robe, but also consider the feel, and keeping them clean being you're in a communal environment.

Bathrobes come in a variety of options so that you can find one that gives you a comfy feeling. Consider whether you want an absorbent robe or just a covering. In a communal environment, a customized bathrobe may prove helpful to ensure it doesn't accidentally walk away.

If the traditional bathrobe isn't enticing, you may enjoy a shower wrap instead. These are a lot smaller, dry faster, but still provide a great covering to get to and from the bathroom.

For your feet, you'll want something to wear to and from the bathroom. As you consider flip-flops and slippers, consider something with a rubberized or plastic sole to prevent damage from the bathroom moisture.

In a communal bathroom setting, shower shoes encourage better hygiene. These are usually flip-flop style but have additional holes in the sole to allow water to flow through.
5. vanity mirrors & organizers
Whether you're applying makeup, shaving, or grooming a beard, having what you need close by and being able to see what you're doing is essential. Dorm rooms are notorious for being a small space to live in but do not include basic amenities like a quality mirror.
Think about the kind of
compact or travel vanity mirror
that will give you the view you need. Do you require something with more magnification? Would you find a desktop model and a handheld mirror helpful so that you can see the back of your head?
You'll also want easy organizers to keep makeup, tweezers, and nail tools. You may have space for a small set of storage drawers, which can be helpful to keep everything separated and organized.
However, you may need to consider smaller storage bins instead. These allow you to easily grab what you need now without having to go through everything.
Heading to college is exciting but can also be stressful when you don't know what to pack. Consider your specific living situation, then head to Bed Bath & Beyond to find all of your college bathroom essentials in a single stop.