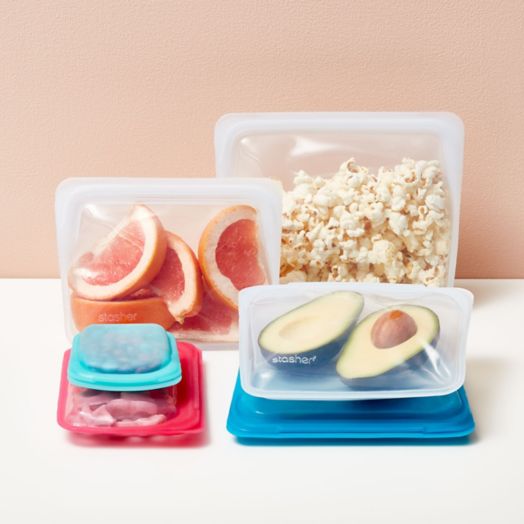 earth day goal: create a more sustainable home without spending a ton
it's a great time to make these 6 eco-friendly changes – if you haven't already!
April 22nd is the 52nd anniversary of Earth Day, and while we all know that it's best to practice green living every day, the holiday is a good reminder to stay on course. With that, we're sharing a few small, easy, and affordable ways to lessen our environmental impact.
replace your lightbulbs with LED bulbs
Energy-efficient LED bulbs use up to 85 percent less energy than standard incandescent bulbs and feature an average lifespan of about 11,000 hours. That's 10,000 more hours than traditional bulbs, so it's totally worth it to spend just a little more on them. By now, there's a tremendous variety of LED bulbs to choose from, including dimmable designs and smart bulbs, which are controllable via an app.
As you've likely learned, disposable plastic bags never decompose, and can take 1,000 years to degrade in a landfill. Stasher's airtight silicone bags are a smart solution: They come in multiple sizes, are dishwasher- and microwave-safe, and are designed to be used over and over again. Reusable plastic bags are another great option: They're affordable, free of harmful PVC and BPA compounds, and are safe in the freezer. While you're at it, keep a few cloth or nylon tote bags handy for shopping – hang one on a hook by your door and store a few in your car. That way, you'll always have one handy and can say "no thanks" to paper or plastic.
make recycling easy with combo bins
We love items that are affordable, save space, and help you feel organized, and a trash/recycle combo bin does just that. The handy units are designed to make it easy to separate trash and recycling with two separate compartments in one compact bin. They're simple to fill, simple to empty, and the sleek stainless-steel styles look attractive in every space.
try using smart power strips
Have you heard of energy vampires or phantom loads? They're your appliances and electronics that draw on electricity even when they're turned off or in standby mode. Experts estimate that these power-hungry devices could be responsible for eating up to 75 percent of the energy used in every household. Smart power strips can eliminate this problem by shutting off the power when not in use, and giving you access to create on/off schedules throughout the day.
install a smart thermostat
Similar to a smart power strip (above), a smart thermostat automatically turns itself down or up to avoid heating or cooling an empty home. It also programs itself to your preferences to save energy, and allows you to remotely control your home temperature from your phone, tablet, or laptop. As for traditional thermostats, experts suggest keeping them set at 68 degrees Fahrenheit during cold months, and 78 degrees Fahrenheit during warmer months in order to remain comfortable while containing your energy bill.
Just as you use natural products on your body, it's important to clean the surfaces you touch with a formula that's free of harsh chemicals. Try an all-purpose, cruelty-free cleaner that's non-toxic and plant-based – that way it's safe in your home, as well as around children and pets. Bonus: Most natural products are scented with botanical extracts and essential oils so they smell as good as they clean.