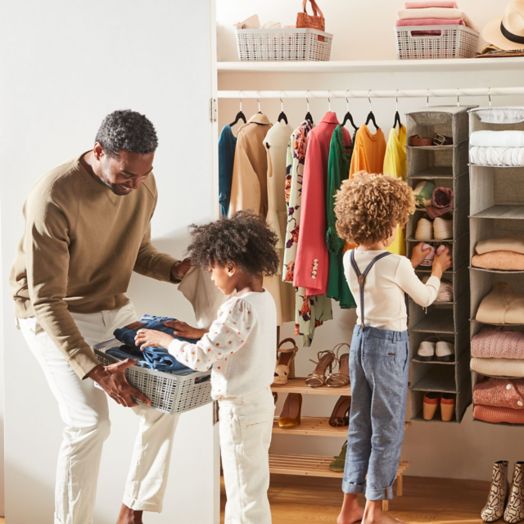 easy storage solutions, room by room
getting your home organized just feels so good
There are SO many benefits to an organized home. When every little thing has a place, it's easier to find what you need when you need it. An uncluttered home looks better, aesthetically, and it might make you feel less stressed and more balanced.
We've made it easy to organize the most trafficked zones in your home.
Let's start with the first space you and your guests see when walking into your home: the entryway. Think of what usually happens here. Coats and shoes come off, keys are put down, backpacks are tossed, mail is taken in. It's an area that becomes a catch-all for everything.
One critical item is a bench. Choose a stylish piece that complements your home decor. Entryway benches are functional pieces of furniture that allow you to store shoes or small items like winter hats and gloves underneath. For even more storage, choose a hall tree with hooks, cubbies and a hidden compartment.
A console table is another great piece. Add a decorative bowl to hold keys or a personalized wood box for your mail.
If you don't have a coat closet, a coatrack or wall hooks are just what you need.
Kitchen storage and organization options are seemingly endless. To simplify, focus on countertops, drawers, and cabinets.
Give your most-used utensils – like spatulas and tongs – a prominent space on your countertop with a holder placed next to the oven. Fruit hangers and baskets make it easy to grab healthy foods on the go.
Drawer organizers store your flatware and utensils neatly. Options include plastic, stainless steel, mesh, and bamboo, plus some that even expand.
Make the most out of your cabinet space by using tiered racks to hold plates, bowls, and cups. For items that don't stack or are bulky, such as pots, pans, and lids, choose a slotted organizer.
A cluttered bathroom is messy looking and tough to clean. To organize it, think about the items you need quick access to, such as toothbrushes and towels, and the items you want to store until needed, such as extra toilet paper and cleaning supplies.
Tuck extra items away underneath the sink. Tiered shelving and bins that pull out make it easy to keep track of everything you have.
If you have a pedestal sink or need more storage space, try a slim cabinet or go for an over-the-toilet unit. You can hang hand towels from the towel bar and store items in the cupboard.
For optimal bath towel and robe storage, choose wall hooks or an over-the-door rack.
Streamline your shampoos and body washes with a dispenser that attaches to the shower wall. Add a toothbrush caddy to your countertop.
Your bedroom should be a space for rest and relaxation. Neaten it up by making better use of what you already have.
Add hanging shelves to your closet and drawer dividers to your dresser so your clothes can be folded and stored separately.
Keep shoes out of sight with over-the-door or under-the-bed storage options.
Place smaller items, such as makeup and jewelry, on your vanity or dresser in holders or bins for a neater look.
It's time to say goodbye to clutter. With a few quick updates and some well-placed storage items, your home will be beautifully organized and feel lighter, too.
Want to see all our storage & organization ideas, solutions, and tips? Read more here.