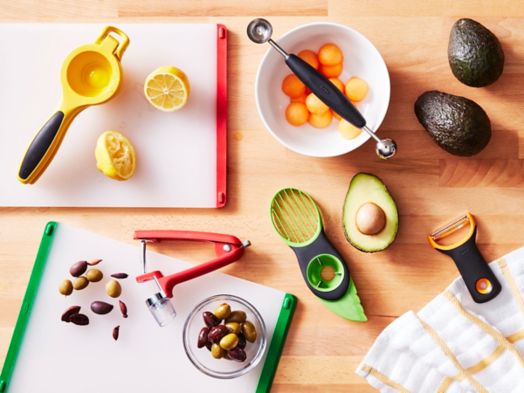 easy summer eating toolkit
handy gadgets make quick work of no-cook meals
Summer heat doesn't exactly inspire people to get busy in the kitchen. Fortunately, summer abounds with fresh fruit and vegetables that can star in quick no-heat dishes: salads and small bites that easily add up to a meal. With a few tools from the crack design team at OXO Good Grips and a little recipe inspo from us, you're likely to find yourself in the kitchen soon, "cooking" a delicious summer meal without losing your cool.
swoosh your zukes into zoodles
With the OXO® Prep Y-Peeler for Julienne Cutting, you can quickly turn veggies like zukes and carrots into noodlelike strips. And these noodles don't require cooking. You can make a fast, fresh, and flavorful four-ingredient salad by tossing your julienned veggies with a vinaigrette, a handful of fresh herbs, and your favorite nuts (chopped or not). We love the combination of zucchini, cilantro, and pistachios, especially with a honey-lime vinaigrette. Tip: the more vegetables—peppers, tomatoes, avocado, onions, carrots—the merrier. Don't forget the salt and pepper.
Brilliant orbs of melon are a feast for the eyes as well as the foundation for a great main-course salad. We love this easy-to-use tool from OXO. With just a few scoops you'll have the balls to make this low-lift twist on the classic antipasto. Combine cantaloupe or honeydew with thinly sliced prosciutto, torn fresh basil leaves, and a tart vinaigrette. White balsamic or rice vinegar makes for the prettiest presentation, but any good vinegar will do. Bonus recipe: try watermelon balls with crumbled feta cheese, sliced red onions, torn fresh mint leaves, and lime vinaigrette.
slice it, don't squash it
OXO's 3-in-1 tool splits, pits, and cuts your avocado with no mushy mess. So you've got perfect avocado slices and clean hands to put those slices anywhere: in salads, on sandwiches, in a rice bowl. Or add them to a healthy-veg version of Vietnamese summer rolls. We used kale, avocado, carrot strips, and fresh cilantro in our version, but countless combos of fresh vegetables and herbs will do. Search summer roll recipes online for tips on working with rice paper and inspiration for dipping sauces.