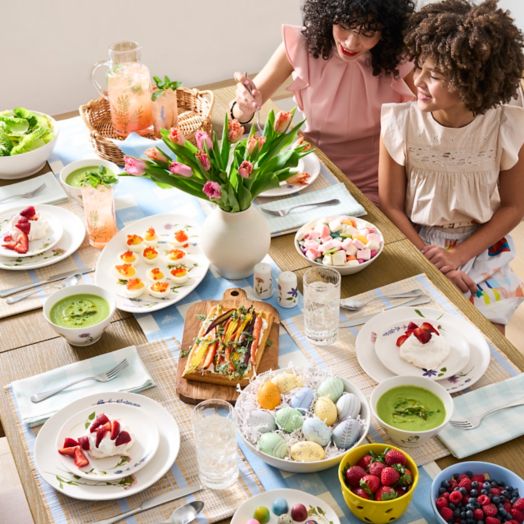 entertaining and decor ideas for Passover and Easter
from charming table settings to imaginative food ideas, we'll help make your spring celebration bright and happy
One of the best things about Passover and Easter is the chance to gather with friends and family. And for us, the moment feels even sweeter when you're gathered with those friends and family around a stunning table full of wonderful food. Here, we share easy ways to set your table, plus a few creative dishes that are just as beautiful as they are delicious.
channel the season with pretty pastels
In our opinion, the ultimate spring table is layered with floral prints, gingham and plaid patterns, soft whites, and touches of rattan. The combination feels pretty, modern, and fresh without leaning cutesy. It's fun to dye Easter eggs in a similar palette, and even bring the theme into your menu. Think: roasted root vegetables, fresh fruits, and a vibrant chilled pea soup.
or choose a palette in clean and modern neutrals
We also love to dress a holiday table in warm whites and muted neutrals. You can anchor the look with a tablecloth in a subtle floral pattern or keep it tonal with something more earthy and peaceful. Carry out the casually sophisticated vibe with serving platters and dinnerware in modern ceramic and stoneware, and flowers in pretty shades of white.
anchor your setting with a beautifully easy centerpiece
We know, we know, florals aren't exactly groundbreaking for spring, in the famous words of Miranda Priestly. But that's what we love: you can always count on them for that perfect finishing touch. Tulips are currently in season and usually inexpensive at most grocery stores. Or if you live in a warm climate, snip a few stems or branches from your own yard. Once you choose a large vase or pitcher in a beautiful style, your look is complete!
get creative with deviled egg toppings
There's something about deviled eggs that just feels so fitting on a Passover or Easter table, and there are so many wonderful ways to serve them. Keep it simple with a light dusting of paprika and chives, or go classic with smoked salmon, capers, and lemon. You can give them a spicy kick with jalapeno, chili powder, or Sriracha, while a kid-friendly route might involve crushed potato chips and sliced cornichons. The holiday is also an ideal time to serve a few extravagant toppings, like curry and chutney or a dollop of trout caviar and horseradish. For extra style points, try pickling the eggs in a beet mixture. They'll take on the prettiest pink hue, perfect for a spring table.
---
Get Home, Happier team member Katie Lee Biegel's Deviled Eggs recipe. →
---
Sometimes a cold soup can feel more fanciful than a warm one, and springtime is a great occasion to try a new recipe. In its vibrant green hue, a chilled pea soup is beautiful on a Passover or Easter table, as is a cucumber soup with yogurt and fresh herbs. A zesty gazpacho is flavorful and refreshing, and there are so many different ways to make it. But whatever style of chilled soup you choose, be sure to serve it with a loaf of crusty bread.