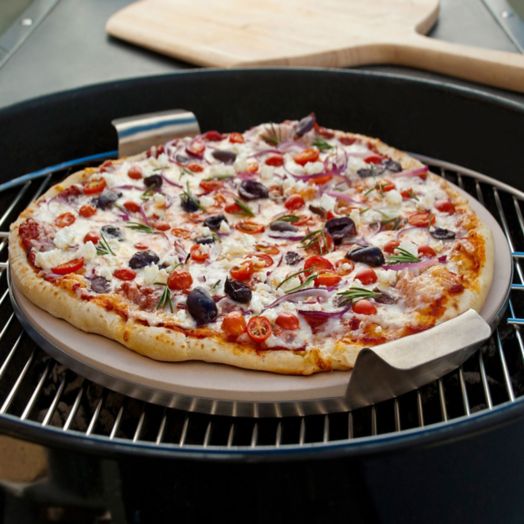 fast dinner idea: pizza on the grill
it's fun, it's easy, and it keeps you out of the kitchen. here's how it works, and 4 delicious recipes
There are so many reasons to love grilled pizzas: They'll take you less than 30 minutes to make, you'll have barely any cleanup, and best of all, they'll probably be the most delicious pizzas you've ever had! All you need is a grill (charcoal works, but a gas one is best because you can precisely regulate the temperature), your ingredients, and a pizza stone. Some people prefer to throw the dough straight on the grates, but we've found that a pizza stone is easier to work with – and less chance of a sticky grill.
Here's what you do next, in 4 simple steps:
Place pizza stone on gas grill and preheat to around 500° with the lid closed. You want your stone to get super-hot, like a pizzeria oven.
While grill is heating, roll and stretch your dough (store-bought works great!) to desired shape. Don't roll the crust too thin – it could burn or break open. Get your sauce, cheese, and toppings ready to go.
Place stretched dough directly on pizza stone (a sprinkling of corn meal will prevent sticking) and make some dots with a fork to aerate it. Add the sauce and toppings, and brush the crust with a little olive oil.
Replace the grill cover and cook until underside is light brown and crispy and the cheese is bubbling, about 7-9 minutes. Transfer pizza to a plate or cookie sheet with a pizza peel or large spatula and allow the stone to cool down with the grill before removing.
grilled pizza: 3 delicious ways
margherita: a guaranteed crowd pleaser
A little red sauce, fresh sliced mozzarella, and a smattering of freshly torn basil – so simple, so delicious. Maybe add a few pepperoni rounds to one side for the kids, and some red pepper flakes and extra basil on the other side for the grownups. Just be sure to make more than one!
veggie: healthy and delicious
It's impossible to choose a favorite veggie combination, so we'll share a few! Fresh sliced tomatoes and pesto make a perfect pair, as do broccoli and red onion (give them a flash fry first). There's something extra special about artichokes, olives, and banana peppers, or keep it simple with a sprinkling of parmesan topped with a handful of fresh arugula drizzled in olive oil and lemon juice. Whole-wheat crusts work well with all these combinations, as do cauliflower crusts for the gluten-free crowd.
dessert: always a good idea
Want to wow the kids? Give them a sweet pizza for dessert! Here are a few sure-fire combos that adults will love just as much as the littles: Nutella + sliced banana. Peaches + mascarpone cheese. Butter + cinnamon + sugar. A scoop of ice cream on top is never a bad idea, nor is a s'mores pizza. All you need is a drizzle of chocolate syrup, a few marshmallows, and some graham cracker crumbles.