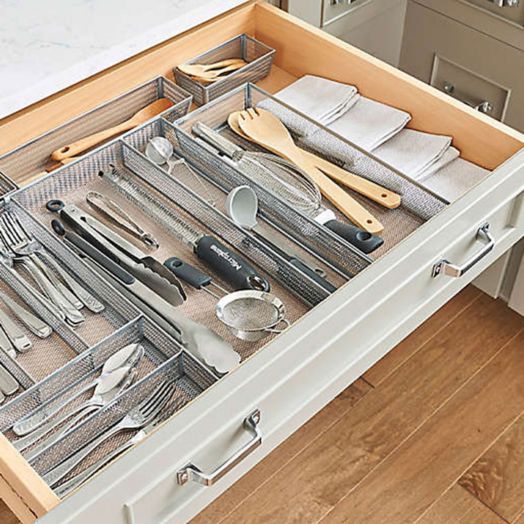 Get Your Kitchen Organized for the Holidays
When it comes to preparing your kitchen for the holiday rush, organizing is just as important as cleaning.
No one understands the importance of getting organized better than Donna Smallin Kuper, whose books on cleaning and organizing have sold over a million copies. With the holidays fast approaching, we asked for her favorite tactics for getting—and keeping—your kitchen in order, no matter how busy it is.
The key takeaway: When it comes to kitchen cabinets, drawers, and the fridge, the right organizational tools will keep the messes at bay. Cutlery and cooking tools, spices and condiments, under-sink cleaning supplies—whip them all into place with these super-organizational tools.
After a trip to the grocery store, it's easy to be overwhelmed by the task of fitting everything in, especially when you're preparing to entertain. The quickest way to get more refrigerator space, Kuper says, is to use turntables and bins. Large turntables keep items from getting lost in the back and spoiling. (Remember the sour cream you didn't find until it was covered with green mold?) By using turntables, both flat and with sides, foods are just a spin away. Place them on a shelf and you'll never have to move items around on it again.
Bins are also perfect for storing multiples of the same item. "I use them to sort and contain healthy snack foods, and leftover bits of orange, lemon, onion, or whatever," Kuper says. "Keep all the ingredients for your office party veggie tray in one bin and you'll save time (and energy) rummaging through drawers and shelves with the door open."
It's so nice to be able to open a drawer and see what you need, especially when you're whipping up quick snacks for unexpected guests. Kuper recommends using drawer organizers to keep knives with knives, spatulas with spatulas, and kitchen odds and ends together (like those cheese spreaders you got for Christmas last year). To create your own customized drawers, use drawer dividers, cutlery trays, and drawer organizers. These are especially helpful in taming clutter in "junk" drawers.
Tired of spices taking over valuable cabinet space? Your spices will be easy to see with an in-drawer spice rack. Unlike traditional spice racks, these adjust to your drawer size and are made to hold a variety of jar and bottle sizes. They can even accommodate that supersized container of candy sprinkles you bought cookies.
Often the junkiest spot in the kitchen, the cabinet under the sink can actually become a tool to make your kitchen cleanup easier. The protruding U-pipe and bulky garbage disposal can make vertical space seem limited, but you can make the most of every inch by installing shelves, drawers, and baskets in the space between the pipe/garbage disposal and the side walls of the cabinet.
Now it's a useful space, perfect for detergent, scouring pads, sponges, and other everyday items. Place plastic storage bins in the remaining space to contain large bottles and boxes of cleaning supplies. No need to cringe when helpful guests pitch in to clean up after a party. Everything they need will be at their fingertips!
What good is a deep cabinet if you can't see what you have? Multilevel deep-shelf organizers increase the storage and let you see at a glance what you've got, like those quick-bread mixes for the charity gift-wrapping party at school. Store cans and boxes with labels facing out, and always group like items together to make finding and storing things easier.