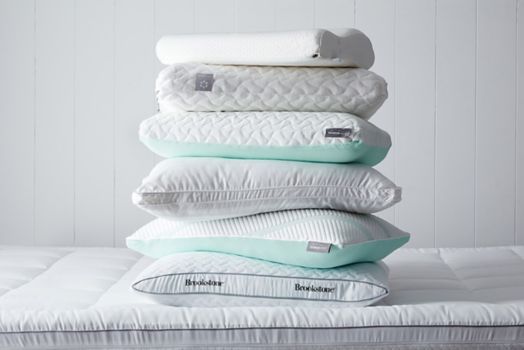 Did we just catch you . . . yawning? No worries, you're in good (and tired!) company.
The Centers for Disease Control and Prevention has reported that up to 40 percent of Americans don't get enough sleep. And while there are many culprits, one may be your pillow. Mattresses may get all the glory, but a properly selected pillow in excellent condition is truly a game-changer.
Most experts recommend replacing a synthetic-filled pillow every two to three years, and memory foam every two. Down pillows are good for about a decade, if you take care of them properly; poly-cluster options can last almost as long. Beyond that, pillows tend to lose their shape and become less supportive. Aging, unprotected pillows are also more likely to accumulate allergy triggers, such as dust mite debris.
Though bed pillows may be small, their impact is huge, and finding the right one is crucial to a great night's sleep, no matter what type of sleeper you are. Here's our guide to finding the best pillow for the happiest wake-up.
We've identified four different types of sleepers that we believe we can help get a better night's rest. The first type is The Furnace, who is always hot. Then there's The Popsicle, who is always cold. The Knot wakes up with aches and pains. And The Overthinker is a stressed-out sleeper (or not much of a sleeper at all). It's important to know which type you are before purchasing a pillow, and it's also important, if you share a bed, to know which your partner is as well.
For the Furnace, we recommend Therapedic® TruCool® Memory Foam pillows. Though they're made of memory foam—known to hold heat—they're made with TruCool technology, which allows for lots of air flow. A double-knit performance cover will keep you cool throughout the night. No need to turn your pillow over every hour in your endless quest for the cool side.
Popsicles should choose a comfortable pillow made of down, memory foam, or latex. Cover it with a flannel pillowcase, which will help keep the head, neck, and shoulders warm and toasty.
For The Overthinker and The Knot, we recommend pillows with lots of support. Both sleep types tend to carry tension in their necks, and a super-supportive pillow can help alleviate that tension.
Besides your sleep type, there are other considerations to keep in mind when choosing a pillow, like its stuffing. A pillow's stuffing determines its character. Down pillows give incredible softness and offer hypoallergenic properties. While they tend to cost more, down pillows have the best endurance.
On the other hand, "down alternative" polyester fillings offer the huge benefit of being machine washable. Any parent who's survived the stomach flu knows that's a must for kids' rooms. Polyester-filled pillows also cost less, though their filling tends to lump up, requiring you to replace it sooner.
If you like more of a marshmallow-y vibe, there is a variety of pillows constructed from memory foam, natural latex, or a mix of these and other materials (imagine a foam core surrounded by down). Memory foam is prized for how it conforms to your head and neck, and keeps its loft. The downside is that it can absorb heat, so it doesn't offer the cooling effect that many sleepers prefer. A pillow filled with natural latex is cooler, while still providing weightless pressure relief.
Find Your Sleep Comfort Zone
These days, most pillows are constructed for different sleep positions. If you're a side sleeper (close to 75 percent of us are), choose a firmer pillow to keep your head and neck properly aligned. Some side sleepers may also benefit from the extra support of a body pillow.
If you're a back sleeper, look for a pillow that's in the middle range—not too firm, but not too soft. You want some "give" for your head, while maintaining support for your neck. Look at foam and wedge options, too. Finally, stomach sleepers should seek out soft, thin pillows with good breathability.
Ah-Choose Wisely if You're Prone to Allergies
Those who wake up congested or with irritated eyes year-round tend to have a dust mite allergy, which is very common. While you should always consult a doctor for allergy concerns, the right pillow may provide some welcome relief. Choose one with a hypoallergenic filling and a tightly woven cover that prevents dust mites and other allergens from penetrating the filling. You can also find sheets and mattress encasements to help make your bed a more sneeze-free zone.
It's also a good idea to stop allergens from entering your home to begin with. Remove your shoes at the front door, and always take a shower before bedtime (a lot of daily allergens attach themselves to your hair and scalp). Some find that it helps to sleep with an air purifier in the bedroom or to rinse their sinuses with a neti pot or nasal spray.